Looking for Living Room Storage Ideas? Are you in the process of re-organizing your living room and are currently looking to invest in a storage solution? It sounds like you could use living room storage ideas. Different storage units are needed when organizing and tidying up the living room. The reason why we'll be telling you all about other living room storage ideas.
Implementing living room storage can be a bit overwhelming since, most likely, you are looking for functionality while decorating timeless pieces; in other words, something that flows effortlessly with the rest of your style. And living room storage can undoubtedly help you transform what may look like a messy room into a completely different one.
Whether you're organizing books, photo frames, and different items, ensuring quality is also crucial. And with so many options, it can become overwhelming to make the right choice. So we are here to help and point you in the right direction by giving you some living room storage ideas.
Living Room Storage Ideas
This coffee tabletop can be effortlessly lifted and forward to create a workspace when sitting on your sofa. The high-quality metal mechanism enables the tabletop to be raised or lowered down quickly and without noise.
A hidden storage compartment beneath the top is designed to store your often-used items like laptop, chess, remote controllers, game controllers, and such like under the lid when not in use, keeping them handy and dirt-free.
The open bottom shelf without baffles can hold blankets, books, snacks, and knick-knacks.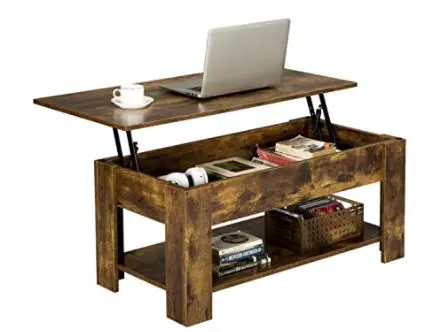 Features:
Metal, Engineered Wood
Rustic
Solid construction
---
Blankets and throws are among the essentials you frequently use at home. But unlike everyday clothing pieces and bath towels, you usually don't put them in the dirty laundry hamper after just one use.
Keep your blankets neat and organized by using this farmhouse wood ladder. Set it up in the living room, bedroom, or bathroom to instantly eliminate clutter.
Made from top-quality treated wood, this decorative ladder is strong against the elements. The tips have safety pads to prevent sliding and damaging your walls.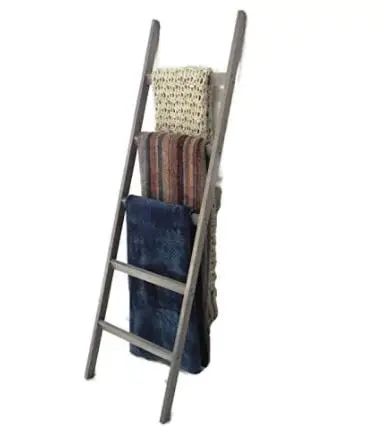 Features:
Freestanding, Wall Mount
Wood
---
Perfect for book displaying, clothes and shoe storage, toys collection, small green plant, other decorations, etc.
It comes with install instructions, makes it easy to assemble, and no tools are required. It can be repeated disassembly use. Adjustable cube to fit in the limited space of your office or bedroom
The stable frame consists of high-quality ABS connectors and durable steel pipes for excellent stability.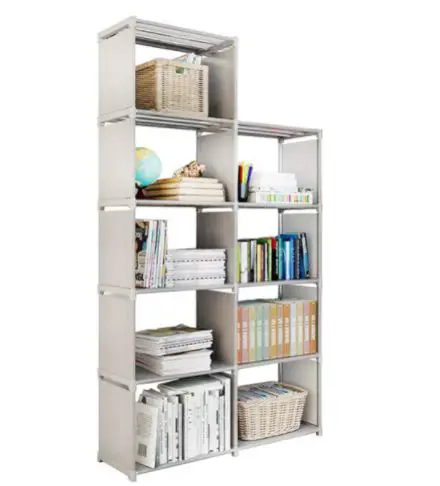 Features:
Wide usage
DIY Design
Plastic
---
This extra-large cotton storage container can hold toys, games, art/craft supplies, clothes, and more. Keep in the kids' room, living room, or any room in the house that could use extra storage: fits on a closet shelf, bookshelf, or desk.
Durability handles design, are foldable, easy to move, and take away fabulous practical cotton large storage baskets.
Soft yet sturdy enough to stand up on their own. Neutral color design, soft material, and multiuse design will also be a unique home décor addition to your home.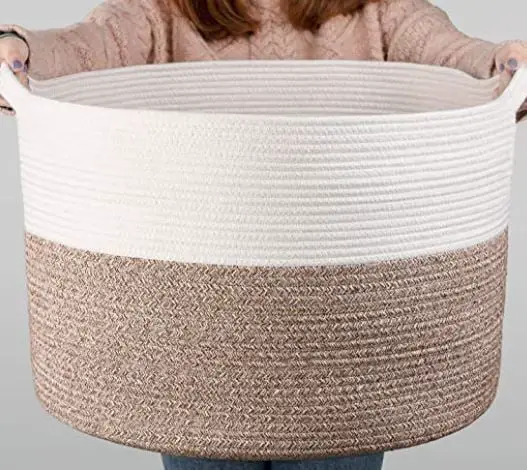 Features:
Versatility
Durability
Neutral color
---
Made of manufactured wood and gold metal, it ensures sturdy construction and steady support. A small table can be entirely nested underneath the large table or used separately, flexible, and practical.
Dual rotatable drawers offer ample space for storing tea sets, snacks, magazines, remote control, toys, and more.
The modern décor coffee tables for the living room can be cleaned easily with a soft, damp cloth.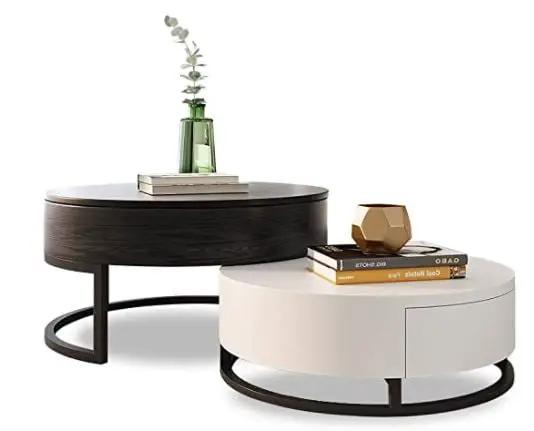 Features:
Lift-Top design
Flexible usage
Smart storage
---
Design your home with the storage space you need by incorporating this 52-inch TV stand into just about any room.
With a versatile design, this TV stand can be utilized not only as an Entertainment center in your living room but as either a buffet in your kitchen or a storage cabinet in your bedroom.
Plenty of storage space is provided, from the open shelving and closed shelving with sliding barn cabinet doors. Position The sliding doors in the center or sides, with your media, electronics, accessories, Glassware, or décor on the shelves.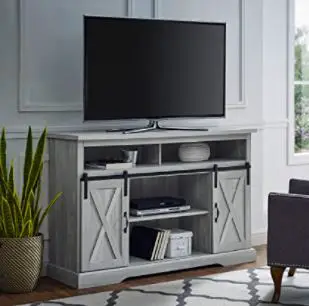 Features:
Cord management
High-grade MDF
Traditional style
---
The ample storage ottoman space makes it easy to meet your various needs. You can place it in your bedroom, living room, hallway, or utility room to organize books, clothes, blankets, pillows, toys, and many other sundries.
The perfect space-saving storage makes your room tidier. The foldable storage chest is collapsible in design, and it makes the storage ottoman easy for you to set up a comfortable padded bench within seconds, the collapsible ottoman storage can be easily folded flat when not in use.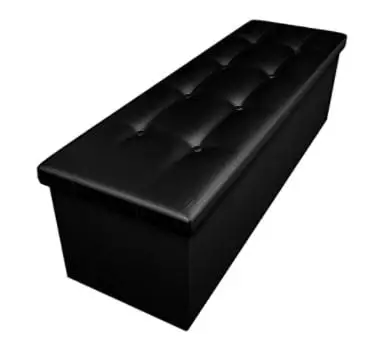 Features:
Extra storage
Premium material
---
Common Questions About Living Room Storage Ideas
How do I create storage in my living room?
The key to getting your living room storage spot on is choosing pieces that offer as much storage potential possible. Think of a coffee table with a shelf and drawers, built-in shelving solutions, or box cabinets that can be wall-mounted. Look out for storage that fits your living room design to keep the room feeling cohesive.
You'll want spaces to keep things on show, so shelving is always a good option as you can use them to add decorating too. But you'll also want storage you can use to hide away all that un-aesthetically please stuff that you need in a living room like remotes and wires and manuals, so consider adding in some closed storage too in the form of a cabinet or console table.
How can I increase storage in my small living room?
To create or increase storage space in a living room, you will first want to declutter and see precisely how much 'stuff' you need to fit back into the space. Vertical storage always works well in smaller areas because it has a minimal footprint, so look out for pieces like ladder shelving and slimline units. Shelving is another excellent option for the same reasons; they provide plenty of storage without taking up any valuable floor space.
Add shelves to open areas to make the most of empty spaces. Floating shelves or a tall bookshelf that extends to the ceiling will provide ample amounts of storage and a place to showcase decorative items.
Try a built-in cabinet or low-profile media unit for a stylish alternative to a tv stand; it provides additional space to stow away items out of sight while creating a clutter-free living room to relax in.
Opt for double-duty furniture. A slim cast iron side table could double as a catch-all for reading materials. Furniture that serves double duty like this is perfect for smaller living rooms and minimalist spaces.
Where do you store throw blankets in a living room?
You have two important considerations when thinking about how to store your living room throw blankets. The first is keeping the blankets clean and protected, and the second is holding them in an easily accessible place.
If you're lounging on the couch reading and realize you'd like to cover up with a blanket, you'd most likely prefer it if you didn't have to stand up to find one. Luckily, there are a few ways to stow your blankets within arm's reach in your living room.
Use a storage ottoman.
Please keep them in a wire or wicker basket near the couch
Drape them over a decorative ladder
Additional Tips on Living Room Storage Ideas
Floating shelves are both stylish and functional, and hanging hooks are also a great way to keep linens, blankets, and hats nice and tidy.
The easiest, most affordable way to introduce more storage space is, hands down, baskets! They're neutral catch-alls for blankets and throws.
If you have a ton of books, built-in cabinets are going to be your best friend.
Storage pieces don't have to look overly bulky or out of place. Go for a sleek media cabinet or low-profile dresser in a corner to keep your items out of sight.
Storage ottomans are serious game-changers, especially in family homes. They don't have to compromise on looks, either.
If you are lucky enough to have a window bench, use the space underneath the seating for storage. Add drawers or turn the seating top into a flip-top bench to access a chest of space beneath.
Dedicate a corner of the living room to the kids' play or art area and use rolling carts or under-table storage to put it all away at the end of the day.