There are 7 Types of Curtains, did you know? Have you been thinking hard about replacing your current curtain game? We hear you! Curtains are a significant part of any room décor. They complete the room's look and tie all the elements together. The reason why today, we'll be telling you about the types of curtains.
Curtains can add significant style to any room in your home. If you think your current setup is a bit outdated, add function and a touch of modernity with a new and trendy curtain style. The market has many different types of curtains and other window treatments.
With many options around and deciding between different styles, fabrics, designs, and functionalities, sometimes it can be challenging to know the right choice. Now, do not fear, with the following guide you'll get to learn about the different types of curtains so you can make all your curtain needs come true.
Types of Curtains
Triple weave blackout fabric balances room temperature by insulating against summer heat and winter chill. Protect your furniture, floors, and artwork from the ravages of the sun; the drapes will pay for themselves off over time.
Thread trimmed and wrinkle-free, ring (1.6-inch inner diameter) fits easily with standard curtain rods—all sets for you to put up right away.
Noise-reducing, better TV viewing thanks to the innovative triple weave technology.
Features:
Polyester Blend
Solid pattern
Energy smart
---
The front side and Backside are the same printed pattern. The front side is a matt linen look with printed designs, and the back side is a glossy silk look with printed patterns.
You can hang it inside out, with either side face indoor or outdoor, giving a beautiful and pleasant look both viewing from inside or outside of the room.
Curtains are constructed with two layers, with Star Cut-Outs the inner layer and tulle lace outer layer and made with high-tech hollow technology cut edges and corners, leaving the star shape intact and more transparent. Stars will emit light through the screen when the sun shines in, forming a dream starry sky.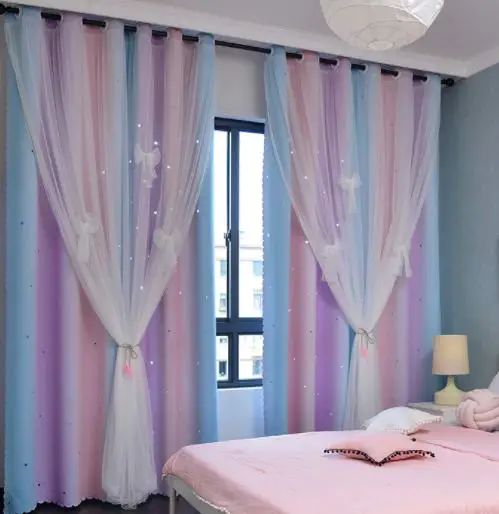 Features:
Polyester
Stripped
Printed Pattern
---
These beautiful curtains are crafted from open-weave linen blended fabric. The primitive and natural effect make the panels more draped and aesthetic, formaldehyde-free, and environment friendly, transfer your room to be a pretty garden.
Premium soft-touch feeling on these elegant linen-textured draperies adds a refreshing charm to your window, lets in some beautiful diffused light, yet reduces energy usage and provides privacy protection.
These timeless classic linen panels will decorate your home with a fresh effect.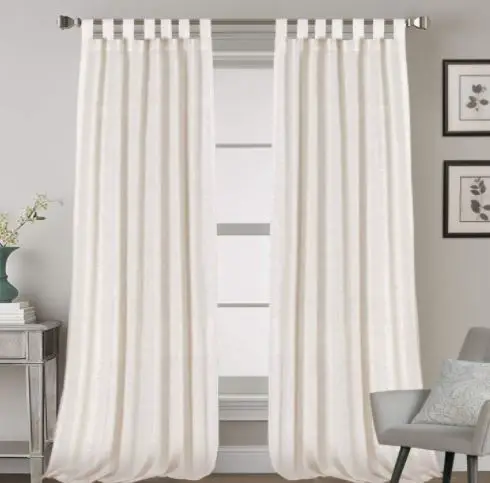 Features:
---
Quality artistry and beautiful embroidery on faux linen texture make your room have a more luxurious look.
Micro semi-sheer curtains have a linen texture and allow natural light while providing enough privacy than ordinary sheers.
Micro embroidered Moroccan trellis design adds style and elegance to your room, makes a pretty soft and natural look to your windows.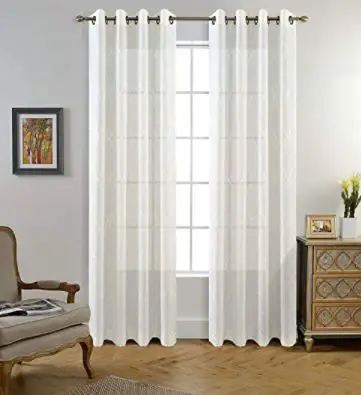 Features:
Faux Linen
Floral pattern
Semi-sheer curtains
---
It is made of durable linen blend printed fabric. Set contains 2 Panels. Flax linen blend printed curtains create a natural allure that complements any room.
Would be the best partner of a bedroom, living room, dining room, office, or kitchen.
Provides a natural touch to your home. These curtains are very sturdy and let natural light in a while, offering privacy.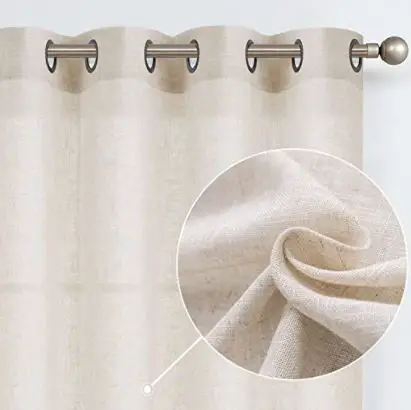 Features:
Durable Linen Blend
Classic style
Stylish
---
The all-over pattern creates a textured curtain ideal for bedroom, living room, or dining room windows.
The semi-sheer design allows for natural light in the room while maintaining privacy in your home. A Cascade of handmade bows flows from top to bottom for a delicate, charming design.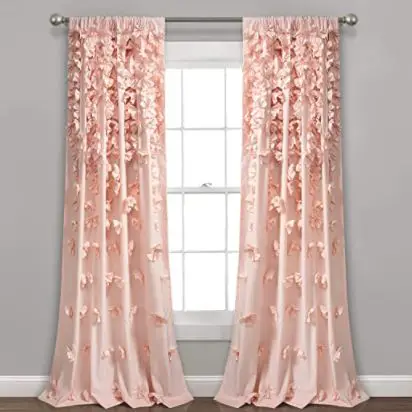 Features:
Handmade bows
Feminine design
Shabby chic style
---
These curtains are crafted from open weave flax linen blended fabric, primitive, and natural effect make the panels more draped and aesthetic; safe and green to kids and nursery.
Add a refreshing charm to your window and lets in beautiful diffused light, yet helping to reduce energy usage.
Machine washable for easy care and maintenance, use only non-chlorine bleach when needed, tumble dry low and warm iron as needed.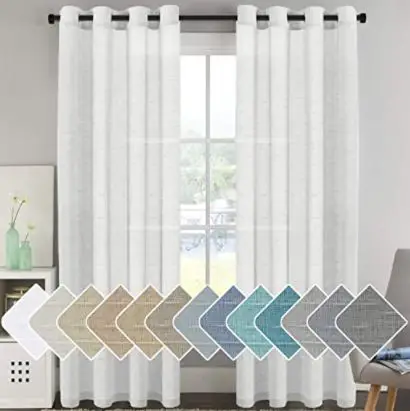 Features:
Polyester Blend
Breathable
Easy Care
---
Common Questions About Types of Curtains
What are the names of different types of curtains?
Rod Pocket Curtains
Rod Pocket or Casement curtains have the top panel sewn to form a pocket. These curtains are most suitable for casual settings and are made of lightweight or sheer fabrics. They are easy to set up as you only need to slip the pocket over the rod.
Eyelet/Grommet Curtains
Grommet or eyelet curtains are the most common curtain type. They have a modern look and give the room a casual, almost laid-back aura with their minimalistic design.
With open rings or grommets in the header/support panels, these curtains are easy to draw, making them perfect for use in the patio or bedroom.
Tab-Top Curtains
These curtains have loops at the top edge of the support panel. Its flat eyelets/hoops are typically made of the same material as the curtain. The fabric is extended up from the top seam and threaded across the rod.
Pleated Curtains
They are retro-classic curtains suitable for a formal setting. The header tape is sewn to the back of the top panel to form pleats. For hanging, hooks are inserted in the header tape across each pleat for support.
Window Scarf
These curtains use a single long cloth that hangs in front or side of the window. It is also known as scarf swag because it has no elaborate designs. Scarves only ornate the window frame as the curtain hangs over the curtain rod.
Cafe Curtains
Cafe curtains cover the window halfway at the top or bottom. These curtains often have cartridge pleats giving them an informal yet cozy allure. These curtains are made of opaque fabrics to control light and offer privacy.
Sheer Curtains
Sheer curtains are the next big thing in the home décor industry. They are light and airy yet provide you the much-needed privacy due to their translucent properties. These curtains can be paired with roller blinds or heavier, fancy curtains.
Blackout/Thermal Curtains
Blackout curtains can be the cheapest and easiest alternative for home cooling. They are also known as thermal curtains as they not only block light but also provide insulation and dampen sound.
What are the varieties of pleated curtains?
Pinch Pleats: They are the most popular pleated curtains in which pleats are pinched and stitched at the base to let the fabric flow elegantly below. They are suitable for master bedrooms, sitting rooms, and entertainment rooms.
Box Pleats: These are stylish curtains as the fabric is folded inwards to get a box shape. They are suitable for bedrooms, dining halls, and living rooms with sleek décor.
Pencil Pleats: Pencil pleats are thinner and single, which means you can use various types of hooks or curtain rods to hang them.
Goblet Pleats: As the name suggests, the pleats in these curtains resemble wine glass or goblet. These curtains are ideal for rooms with high ceilings and formal setups.
Cartridge Pleats: These curtains have single pleats with a vast space in between them. They are great for kitchen windows and dining rooms.
Tuxedo Pleats: These are large pleats that give the curtain a contemporary and formal flair. They are best suited for guest rooms and dining halls.
What are curtains with hooks called?
Pencil pleats are widely used in all sectors and homes. Pencil pleat headings usually are three rows of string threaded through it for three hook positions. The hooks, which can be metal or plastic, can be put in 1 of 3 pockets depending on whether you want the curtains to be underslung or to cover the track.
What curtains are in style?
Japanese curtains. Made from thinner fabric, often bamboo, curtains of the Japanese style follow many of the curtain trends.
Beaded curtains. They come in chic patterns made from wood, metal, or plastic materials and can work well to divide a room, even if they're not the best at blocking light.
Faux wood curtains. Faux wood blinds more effectively block light than mini-blinds made from plastic or metal. They also have a more sophisticated appearance.
Linen curtains. Linen is an organic material, which is one of the reasons why it's fan-favorite as a luxury window treatment.
Layered curtains. Layering has a few advantages; homeowners can combine blackout curtains without sacrificing the lightness or luxury of other curtain styles.
Pom tasseled curtains. These decorations add flair without a lot of weight. Plus, tassels look great with linen curtains.
What are the common uses of curtains?
Decorate a window frame. Curtains frame the window and complete the room's overall appearance. They can make your windows look taller or broader and frame the outdoor view.
Accentuate room décor. Bright-colored curtains create a lively milieu suitable for dining rooms, halls, and living rooms, while mellow tones work well for bedrooms.
Block out sunlight. Thicker curtains typically offer significant amounts of insulation.
Room separator. You can create a new space by using curtains as room separators. Use voile curtains as they offer opaqueness while maintaining room aesthetics.
What elements should you consider when choosing curtains?
Hanging Hardware. Curtain tracks, also known as traverse rods, are sleek in design and blend with the wall. Curtain poles or rods, on the other hand, are pretty versatile in their function and aesthetic appeal.
Heading styles. Valances and pelmets are used over the curtain heads for a finished look. Placed at the top of the windows, they create an illusion of height and camouflage curtain tracks or rods.
Material. Cotton, polyester, rayon, or linen are the most popular fabric materials in light and medium weight curtains. They are best for regular use, such as in living rooms.
Then you have silk, velvet, or brocade, which are suitable for a luxurious look, and voile, acrylic, and lace are commonly used for sheer curtains.
What are the curtain size variations?
For the curtain length, you can choose from the following variations.
Float: The curtains dangle above the ground; the space between the lower panel and floor is no more than an inch. These settings work well with modern furniture and carpeted floors.
Kiss: With this technique, the curtain will graze the floor for a more polished look. It is suitable in a contemporary setting but requires precise measurements.
Puddle: The curtain panels flare out at the bottom to add luxury. This technique is commonly used in heavy or silk curtains in a formal setting.