You can choose from different types of dryers if you need to replace your dryer soon. We hear you; laundry dryers are one of those staple items we can't leave without. If you are looking for the best dryer for you, it is always a brilliant idea to do a little research before making any investments. So, today we'll be telling you about different types of dryers.
That's right, you may not be aware but there are different types of dryers. When looking for the best dryer for you, you also need to consider critical features to ensure you are getting something worth your money.
However, it can be a bit overwhelming knowing what the right choice should be with so many options. We are here to help and point you in the right direction by giving you different types of dryers and more valuable tips.
Types of Dryers
The weight of this clothes dryer is only 37.3lbs, and the small size makes it portable. Its compact feature is perfect for small spaces like apartments, dormitories, and more; it can be mounted on the wall, placed on firm horizontal ground, or mounted on the rack.
This electric dryer with 850W power and 10 lbs hefty capacity(10 pounds is the weight of wet clothes), this portable clothes dryer can ensure your clothes dry sooner.
According to the material and weight of the cloth, you can set the time length or different modes for drying.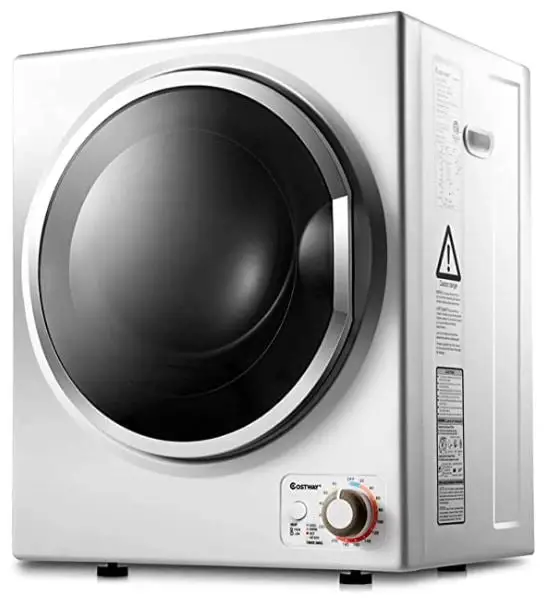 Features:
Stainless steel
Electric
Compact and portable
---
The Kenmore Front Load Electric Dryer was designed to make laundry day nice and simple. Whether you've got a pile of soaking wet towels or a delicate blouse that needs refreshing, this electric dryer has you covered.
With an extra-large 7.0 cubic foot capacity, you can take on almost any sized load. This dryer gets the job done right from a light load of delicates to a mountain of towels or a bulky duvet.
With SmartDry technology, drying sensors customize the drying temperature, and time to your clothing to keep it looking brand new, so you can spend less time babysitting your laundry and more time doing what you want with your day.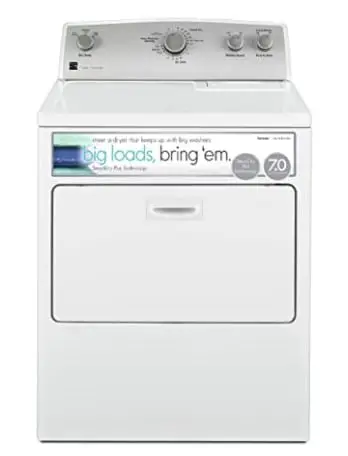 Features:
Wrinkle Guard option
Front-load electric dryer
Automatic drying
---
FlexDry gives you two dryers in one: in addition to the central tumble dryer, which features nine preset cycle selections, there's also a separate drying compartment on top of the unit for drying delicates.
Now you can dry your heavy loads and your delicates simultaneously. The dryer uses the power of Samsung's Multi-Steam technology to eliminate stains, wrinkles, and odors.
This model is also Wi-Fi connected, so you can remotely monitor remaining cycle time, receive alerts when the cycle is complete, and schedule cycles from your smartphone anywhere.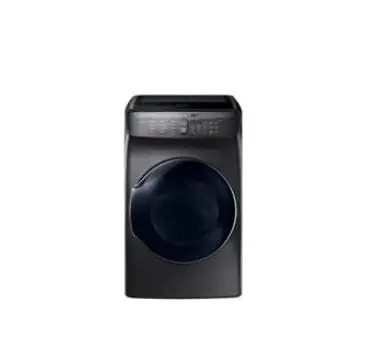 Features:
Wi-Fi connected
Two dryers in one
Multi-Steam technology
---
The anti-wrinkle guard in the dryer avoids wrinkles forming in clothes during the dry cycle.
The door swings open 180°, making unloading of clothes easier and accessible fit for the laundry basket, and the angled door handle reduces bending to open door.
A stacked washer/dryer combination helps save space in your laundry room. You free up floor space for other appliances and tools by orienting your laundry units vertically instead of horizontally.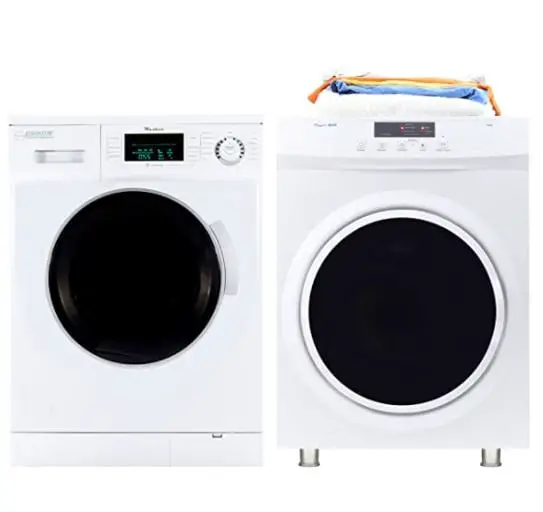 Features:
Anti-wrinkle guard
180 Door swing
Stacked washer/dryer combination
---
The vent-less heat pump dryer is a new product from Blomberg.
The vent-less heat pump technology allows this dryer to be installed anywhere from the kitchen to hall closets.
The 16 programs will make sure you have the right choice you need. The lint catcher (normal dryer filter) and the bottom filter (more for the vent-less part) are two items to check before running the dryer each time.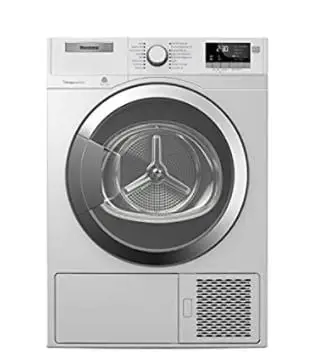 Features:
Vent-less technology
Front Load
---
Common Questions About Types of Dryers
What are the types of dryers?
Flash Dryers
A Flash Dryer uses ductwork, which acts as a container for the uniform transfer of thermal energy from a hot gas stream to a moisture-laden product, for moisture reduction in the product. For proper drying, the particle size must be uniform and relatively small. Wet product is introduced in the gas stream where the moisture is flashed off, and then the dried product is removed from the gas stream.
The Ring Dryer is a variation of the flash dryer, which grinds and then recycles product to ensure uniform particle size and product moisture content.
Fluid Bed Dryer
A Fluid Bed Dryer uses a container equipped with vertical jets of hot gases for the uniform transfer of thermal energy from a hot gas stream to a moisture-laden product for moisture reduction in yield. For proper drying, the particle must have a near-spherical shape and uniform small size and moisture content. The wet product must be uniformly introduced into the drying gas stream where the moisture is flashed off. The dried product is removed from the exiting gas stream.
Rotary Dryers
A Rotary Dryer uses a rotating cylindrical drum, which acts as a container for the uniform transfer of thermal energy from a hot gas stream to a moisture-laden product for the purpose of moisture reduction in the product. Wet product is introduced into the inlet of the drum, where it is dried as it is conveyed to the drum's outlet. The drum is equipped with flighting to disperse the product into the drying gas stream as the drum rotates. The product can either be conveyed pneumatically, or it can be conveyed by gravity if the drum is on a slope.
Steam Tube Dryer
A Steam Tube Dryer is a constant temperature drying process. The drying process always takes place at the steam's saturation temperature for the steam's pressure. Steam Tube Dryers use a rotary drum for the drying vessel, and the product is handled in a Steam Tube Dryer similar to a Rotary Dryer. The product can be conveyed with gravity, screw flighting, or pneumatics.
What are the three types of tumble dryers?
There are three different kinds of electric or tumble dryers:
Vented Dryer
The warm, damp air extracted from your clothes during the drying process must be expelled through an open window or space or through a vent or ducted hose (ensure your designated area can accommodate these). Vented dryers are affordable and effective but tend to be noisy and energy-consuming.
Condenser Dryer
The warm, damp air goes through condensation, whereby the extracted moisture is stored in a tank while the air is reheated to dry the clothes. There is no need to release air from the dryer; the condenser dryer can work in a windowless room. However, clothes take a longer time to dry, and the water tank needs to be emptied.
Condenser Dryer with Heat Pump
The warm, damp air is converted into cool, dry air. This air is then reheated before it enters the drum again. This dryer is also suitable for windowless rooms. The closed circuit, which allows air recycling, also provides energy savings of about 50 percent.
How many types of dryers are there?
The most common industrial dryers are fluidized bed dryers, rotary dryers, rolling bed dryers, conduction dryers, convection dryers, pharmaceutical dryers, suspension/paste dryers, toroidal bed or Torbed dryers, and dispersion dryers.
What is the difference between dryer types?
The main difference between vented and condenser dryers is removing water from the machine. Vented tumble dryers are more common. Since a vented tumble dryer removes water and moisture via a hose, it must be installed close enough to an external wall or window for the hose to reach outside.
How is dryer capacity measured?
The first thing you've got to figure out regarding a clothes dryer is how large you need it to be.
The dryer's capacity is measured in kilograms and refers to the weight of the clothes once dry, not while they're sopping wet and straight out of the washing machine.
A rule of thumb states that your dryer's capacity should be double that of your washing machine.
Electric or gas dryer, which is better?
A gas dryer will be slightly more expensive than its electric counterpart.
However, that same gas dryer will pay several times over by being more energy efficient and cheaper to operate.
Gas dryers use gas to heat the tumbler and, in turn, uses less electricity to fuel the appliance compared to standard dryers. In terms of wet weight capacity, expect 4kg to 9kg.
What key features should you keep in mind when buying a dryer?
Energy rating. A tumble dryer's energy rating will tell you how energy efficient the model is. Ratings range from A – G, and a more efficient appliance means you'll save more money on your energy bills.
Sensor drying. This uses clever sensors to work out how wet your laundry is. This means your drying cycle will only end once your clothes are perfectly dry.
Anti-crease. With the anti-crease function, your tumble dryer will run at a much lower speed at the end of the cycle to take care of your clothes and stop creases.
Reverse action. This feature changes the direction of the drum at the end of the cycle to loosen your clothes and get rid of any creases.
Filter full indicator. A simple but essential feature, the whole filter indicator, will let you know when your tumble dryer's filter is full of fluff so you can empty it.
Door size. Don't spend any more time doing the laundry than you need to with a large handy door.
Quick-dry. This speedy cycle can dry a small load of clothes in as little as 15 minutes.
Delay timer. You can set the time you want your tumble dryer to start drying your clothes.