We found five different Types of Futons to choose from if you are looking for the correct type of futon? Besides the apparent purpose, futons can also be quite fun and make for unique pieces of furniture that accentuate your home décor. So today, we'll share with you different types of futons to cover your needs.
Whether you are having a party or just wishing to change your usual movie nighsetupup, a futon can be the perfect scenario to accommodate you and yours. These functional pieces of furniture will save you on space as they can be used for both seating and sleeping purposes.
Futons are available in a wide range of styles, but, it is always a good idea to do a little research fir, just with any investments. And with so many options available, making the right choice can be a little stressful. So we are here to help and point you in the right direction by showing you different types of futons.
Types of Futons
Perfect for any occasion, three backrest settings let you enjoy meaningful conversations, watch a long-awaited sports event, or even count sheep in a peaceful slumber.
This stylish futon sofa has a 500-pound weight limit that lets you lounge in good company while utilizing a fold-down armrest with convenient cupholders in the middle.
Stay prepared for overnight guests by taking advantage of the removable arm pillows and adjustable back to switch from a sofa to a comfy bed in just seconds.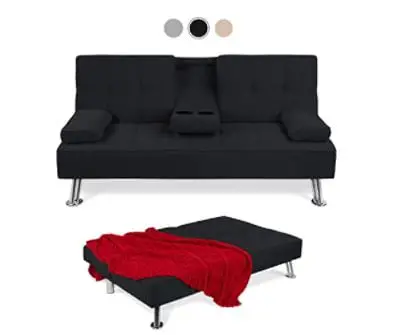 Features:
---
Stylish linen upholstery with intricate diagonal stitching and multi-functional mid-century low profile design, ideal for small living spaces.
Converts quickly and easily into a lounger and sleeper. Split back design provides multiple positions of comfort.
Solid wood legs with padding under the feet to protect your floors from scuffs and scratches.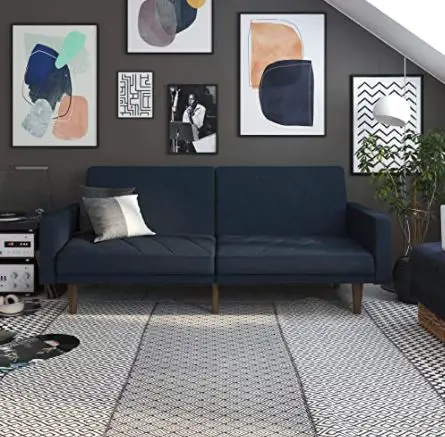 Features:
Stylish linen upholstery
Split back design
Solid wood legs
---
The Emily futon is a striking piece that blends a modern look with a low-profile style. The tufted upholstery adds a classic touch and is available in faux leather, linen and velvet in a variety of colors.
The sleek slanted chrome legs add an exciting burst of shine that is perfect for any living space.
You can also lie both sides flat for a really comfortable sleeping spot for overnight guests. Its small profile means your futon can fit just about anywhere like your living room, home office, and even guest room, while always making a big statement.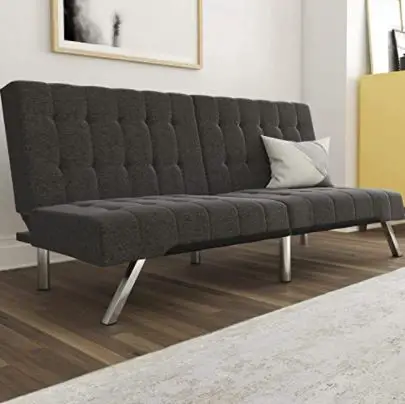 Features:
Convertible
Linen
Split back
---
The futon, Japanese traditional style bedding, is a type of Japanese mattress used on the floor at night for sleeping.
This Japanese bed is traditionally rolled up during the day when not needed to free up some space in the room.
When it comes to futons, Japanese style futons is the most popular Japanese bed. Originating in Japan, this soft, rollable Japanese mattress can easily be set up on the tatami mats on the floor to provide an airy yet firm support.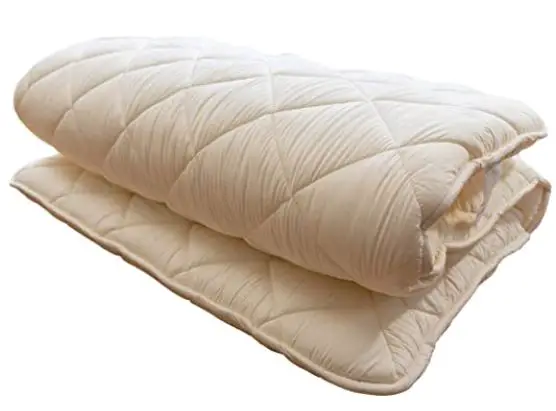 Features:
---
Be embraced by the comfortable cushioning of the Novogratz Brittany linen futon. With its ribbed tufted cushioned back, the Novogratz Brittany Linen futon gives your body all the support you need to sit and relax for hours.
The curved armrests and slanted legs combine to provide a unique rounded look that stands out.
The linen upholstery adds another element of elegance, making this a perfect statement piece for any living space. It features comfortable polyester and foam filling with slanted oak-colored wood legs.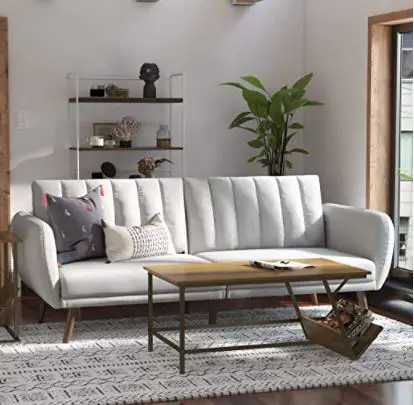 Features:
Wood frame
Stylish
Foam filling
---
Common Questions About Types of Futons
What is a futon?
A Futon is an old, Japanese-style long seat that can slide and folds out into a mattress. The cushion on the original sofa is used as the padding for when it becomes a mattress.
What are the different types of futon mattresses?
Basic futon mattresses are made of mostly cotton. A layer of foam is sometimes added to sustain the rigidity of the futon. Usually, the more cotton the mattress contains, the heavier and firmer it becomes. Cotton gets compressed over time and becomes hard and lumpy.
This requires flipping and patting to break up the cotton fibers that have become hard and compacted over use. The more foam used, the better. The category of futons tends to be the most economical in price.
The more foam that is added, the better is the futon. And when a layer of wool is encased over the cotton, it increases the comfort level and helps retain the shape of the mattress. The wool over cotton keeps your body cooler in the summer and warm in the winter, providing a springier feel for sitting and sleeping.
What size futons are there?
Futons generally come in single, twin, full, and queen sized. There are two-piece loveseat frames available as well. The two-piece loveseat models are also called space saver frames.
What are futons called?
Futons are traditional Japanese bedding. A futon is a padded mattress, called a shikibuton, a quilt, called a kakebuton, and a pillow filled with beans, called a makura. The futon was put on the floor at night for sleeping.
There are a couple of styles, there are Japanese styles or Western-style, that doubles as a sofa, sometimes what we call a sofa bed.
What are the elements of a futon?
Frame. The futon frame is the foundation of the futon. A poorly constructed frame will be difficult to convert from couch to bed and will be more likely to break or come loose. Important facets are strength, ease of use, and durability. There are many different arm styles and finishes to choose from.
Mattress. The futon mattress is the cushion used for both sitting and sleeping. A great futon will be comfortable for both functions, giving years of sitting and sleeping pleasure.
Cover. As the final surface detail, the cover is the most noticeable part of the futon. Here you can choose to coordinate with the surrounding environment and add protection for the futon mattress from dirt and spills.
What are the types of futons frames?
Bifold Futon Frame
The most common futon frame is one in which the futon mattress is folded in half the long way.
Loveseat futon frame
Like the equivalent sofa, Loveseat futon frames are designed for small spaces. These use a 2-piece futon mattress to fit a twin or full-size bed into the smallest possible space.
Trifold futon frame
A great option for small spaces, the trifold futon frame folds the mattress in thirds upon the frame. Because the mattress is folded this way, only thinner models can be used on trifold futon frames.
What materials are futon frames made of?
Wood frames are by far the most common construction for futons. Versatile in terms of function and aesthetics, a solid wood frame can appear in myriad styles and surface textures.
A metal frame futon has the benefit of lighter weight and, thus, more portability than a traditional wood frame.
What are the different futon shapes?
Traditional. The traditionally shaped futon most closely resembles a classic sofa. These will have full arms, with either matching or perfectly paired mattress and frame combinations.
Armless. The armless futon appears more naturally like a traditional bed in its bed configuration. It can also make for a more sleek sofa configuration.
Lounge. These models can supplement more traditional furniture in a living room, or make a relaxing halfway point between sitting and laying down.
Bunk Bed
Combining the traditional futon set up with a full bunk bed frame, they allow for seating and two full beds in a compact space.