There are different types of dehumidifiers if you are searching for one. We hear you; with the changing of the seasons and allergies attacking, you need to get your dehumidifier game strong and think about whether you should replace the one you have with a new one—the reason why we'll be telling you about different types of dehumidifiers for your choosing.
Dehumidifiers are necessary for every household; think about it as investing, just like your washing machine. These appliances reduce musty odors that can accompany mold and mildew—facilitating the potential development of mold on furniture, curtains, bedsheets, and clothing. Running a dehumidifier reduces dust.
But before you make any significant investment, it is always a good idea to do a little research first. And with so many options available, making the right choice can be a little stressful.
So we are here to help and point you in the right direction by showing you different types of dehumidifiers so you and yours can stay allergy-free.
Types of Dehumidifiers
The homelands 50-pint Dehumidifier brings comfort to your home just when you need it the most. Its filter is removable, washable, and easy to clean.
This powerful Dehumidifier helps reduce humidity levels and keeps allergens at bay for extra-large rooms and basements up to 4,500 ft².
Aside from reducing discomfort, this Dehumidifier can also help cool down your home. Designed with effortless control in mind, humidity levels are easy to read and adjust, and Auto Shut-Off, Defrost, and Auto-Restart functions promote convenience.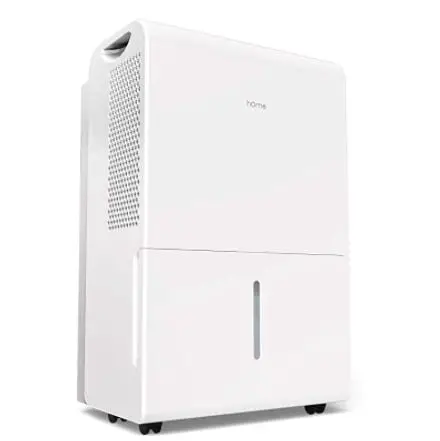 Features:
Easy to clean
Auto Shut-Off
Built-in wheels and handles
Quiet fan
---
This compressor dehumidifier keeps spaces up to 4,500 Sq. Ft. cool and comfortable by removing 50 pints of moisture/day.
This Dehumidifier is packed with convenient features like a built-in water pump, drain hose, two fan speeds, temperature and humidity sensors, timer, auto-shutoff and restart, and air filter.
The LCD accurately displays the current humidity level in the room, enabling you to set your ideal levels for automatic moisture control.
Features:
Auto Defrost
Built-in water pump
2 Fan speeds
Temperature sensor
---
Dehumidifiers offer regular and turbo fan speeds for optional. The low-noise design will distract you from the disturbing noise when sleeping or studying.
The removable and washable filter means easy maintenance; clean it regularly and then recycle. Program the 24-hour timer to suit your lifestyle and save energy costs.
Are you tired of manual drainage? A drain hose outlet for a continuous draining offer for you. This energy-efficient Dehumidifier is suitable for your basement, home, bathroom, bedroom, garage, and other indoor spaces.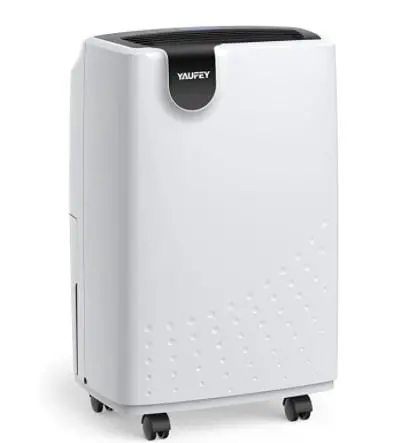 Features:
Energy-efficient
Portable
Low maintenance
---
This compact and portable Pro Breeze mini dehumidifier efficiently reduce humidity in small rooms up to 2200 cubic feet.
It is perfect for use in small spaces such as your kitchen, garage, basement, RV, trailer, wardrobe, boat, and with its lightweight design can be easily relocated.
It utilizes advanced Peltier technology, which is highly energy-efficient and whisper-quiet too, allowing you to run it all day and night without any loud or disturbing noises.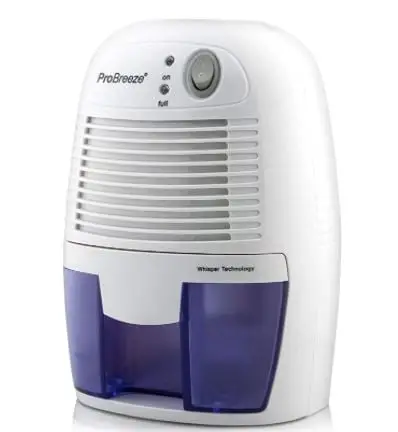 Features:
Energy efficient
Ultra-Quiet Peltier Technology
Compact, portable and lightweight
---
With this Dehumidifier and air cleaner, you can now reduce excess moisture and make your living space more comfortable.
Tenergy's portable Dehumidifier uses Peltier technology and HEPA filtration to make your air more comfortable. The Sorbi has a removable 1-liter water tank and can remove 750ml/day in an environment of 80% humidity and 86º Fahrenheit.
The true HEPA filter means this Dehumidifier can also capture more particulates than a standard HEPA filter.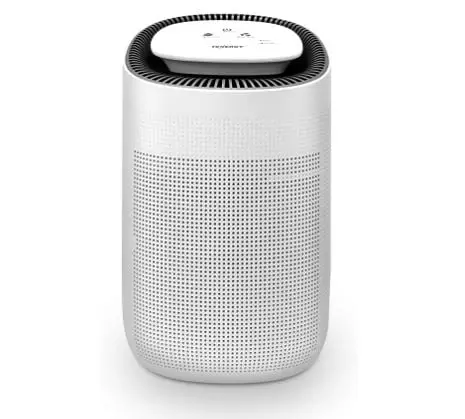 Features:
Ultra-quiet operation
Portable
True HEPA filtration
---
Common Questions About Types of Dehumidifiers
How to know if you need a dehumidifier?
In addition to your allergies, sneezing, and coughing getting worse by the minute, here are a few signs that you need a dehumidifier:
Condensation on windows.
Mildew spots on the walls.
A musty smell is hanging around your home or in certain rooms.
Watermarks in your basement.
Rotting wood.
Wallpaper peeling.
What are the different types of dehumidifiers?
The three main types of dehumidifiers are – Refrigerant, Desiccant, and Whole House. Each has a different method of collecting moisture.
Refrigerant Dehumidifiers
A refrigerant dehumidifier uses much the same process as your fridge at home; it is also known as a compressor dehumidifier. The refrigeration process cools a metal plate on which moisture from the air condenses. Eventually, the relative humidity in the room/home is reduced to an average level. The unit will then switch itself into standby until such a time as it is required again.
Desiccant Dehumidifiers
Desiccant dehumidifiers absorb water from the air using a desiccant. A desiccant is a material that absorbs moisture and will be familiar to anyone who has ever found a small pack of crystals, labeled "silica gel," packaged with a camera, computer, or some other product.
Whole House Ventilation Dehumidifiers
Ventilation systems are considered the most effective way to remove damp, mold, and condensation from your home. Cheaper to run than even the most economical plug-in dehumidifiers. These units sit quietly in the loft space, pushing air from there down into your home via a discreet grill mounted in the hallway.
Which type of Dehumidifier is best?
While a desiccant unit may consume more power and are usually more expensive than a compressor unit, they are much more effective at extracting moisture and achieve a better result in a much shorter time.
Which is better, desiccant or compressor dehumidifier?
Advantages of desiccant dehumidifier
They work well in both warm and cold climates
They keep your home warm during winters
Low noisy level
Optimal energy consumption during winter
Portable
Low maintenance
These units last longer
Disadvantages of desiccant dehumidifier
They are more expensive
Using a compressor dehumidifier during warm temperatures is recommended because they help keep room temperature.
Advantages of compressor dehumidifier
They work well in warm climates
Help maintain room temperature
They consume less energy
Disadvantages of compressor dehumidifier
Not suited for cold climates
They are bulkier
They are noisy
What is a Peltier dehumidifier?
Peltier dehumidifiers work by pulling in damp air over the front of a cold heat sink. As the air passes over the cold surface, it condenses. The water released from the condensed air drips into the water tank, and the dry air is released back into the room.
What aspect should you keep in mind when buying a dehumidifier?
Adjustable humidistat. To allow you to set your ideal humidity level.
Inbuilt hygrometer. Automatically detect the humidity of the air, which can be used to determine switch itself on or off.
Noise level. Dehumidifiers are sold with a noise level rating, so you know how loud it is when it's operating.
Mobility. Most people want to move their Dehumidifier around, so make sure it has a handle and caster wheels if it is a large unit.
Automatic shutoff – to detect when the ideal humidity has been reached and shuts down the unit.
Defrost mode. This stops the Dehumidifier from freezing up in low temperatures.