You can choose from different Types of Desks if you are you in search of a new desk? We hear you, the time has come to upgrade your old desk, and since the last time you got one, chances are there are new and different designs and styles—the reason why we'll be telling you about different types of desks today.
Desks are a necessity in every household, even more so now that everyone works from home. So, whether you want a desk for your children's study room or one for your home office, the correct type of desk can make your work a breeze, offering comfortability, storage compartments to keep all your office items, and different kinds of desks suit different needs.
Furthermore, desks can become the centerpiece of any space, making them an essential piece of furniture. But just like with any investment, doing a little research first is always a good idea. And with so many options available, making the right choice can be a little stressful. So we are here to help and point you in the right direction by showing you different types of desks for your choosing.
Types of Desks
Functional Computer Desk with Shelves. Equipped with 3 Tier Storage Shelves, it can efficiently store various items.
The modern Simple Style computer desk has an industrial charm appearance and will be a beautiful décor for your home.
This desk provides ample space for writing, studying, gaming, and other home office activities.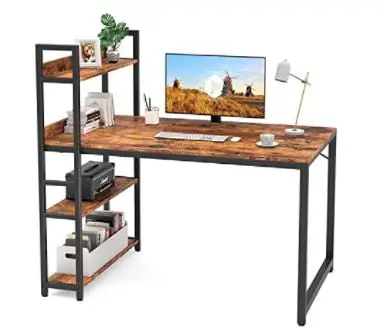 Features:
Rectangular
Computer Desk
Rectangular
---
The beautiful work surface is finished in particles and easy to clean. You can install the monitor shelf on either the right or left according to your Preference.
It is made with strong steel finished with fashion powder coating to ensure durability, resulting in long-term use.
Adjustable glides stabilize / balances the desk on uneven floors.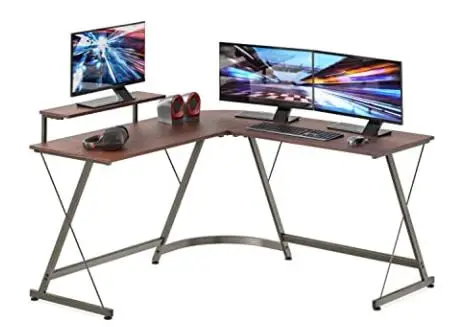 Features:
Monitor Shelf
Adjustable Glides
Z shaped design
---
Featuring a modern design, this desk is great for home office, studio, bedroom, and kitchen as a dining table.
It was made of steel frame, powder-coated finish, environmental particleboard. Easy to assembly, step-by-step instruction, and hardware included.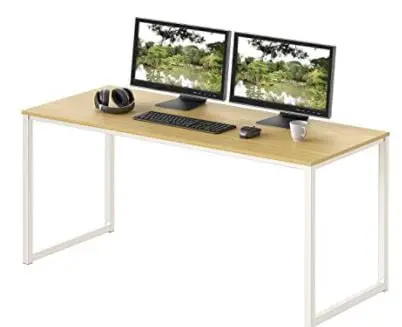 Features:
Rectangular
Engineered Wood
Computer Desk
---
Cubiker computer desk with top shelves and the bottom bookshelf. It is a suitable workspace for your home office activities and provides ample space for computer, monitor, printer, writing, study, and other home office activities.
The top shelves design expertly make your desktop tidier and helps you head up when you put your screen on it.
The bottom bookshelf design offers ample storage space for books, files, and other office home supplies.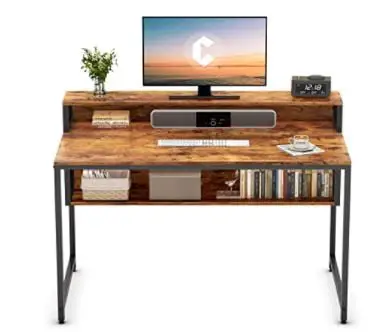 Features:
---
This white small space computer desk futures top monitor shelf is designed for correcting the sitting position.
These white desks for small spaces in a vintage wood look and classic wood grain effect veneer is ideal for home office or small spaces use. Elegant handle with bronze finish creates a stylish antique look to complement home decors.
Thicker and Tougher white writing desk with drawers legs provides extra stability for this simple but elegantly designed students desk.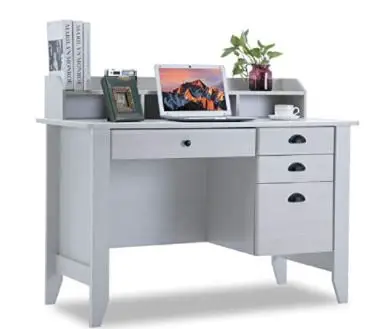 Features:
---
Brief History of the Desk
The first desk appeared in the 1600s as the 'sloping desk,' which had a writing surface that one could open and close.
In the 1700s, desks were popular in England as practical writing tables with a flat rectangular surface designed for home use.
The 1800s saw the rise of the pedestal desk, a nine-drawer configuration composed of three pieces (two pedestal sides and a flat top surface).
Common Questions About Types of Desks
What are the different types of desks called?
A desk may also be a bureau, counter, davenport, escritoire, lectern, reading stand, rolltop desk, school desk, workspace, or writing desk.
Among the different desks, we find the most common types include:
Writing Desks
A writing desk is a flat, primary surface that provides a bare environment for writing and typing.
Secretary Desks
Secretary desks are designed with cubbies and storage, making them great for people who need to write and finished any paperwork by hand.
Computer Desk
Computer desks are designed for the classic home desktop user who needs a monitor, computer tower, and printer within easy reach.
Executive Desks
Like writing desks, executive desks have a flat, sleek surface on top, maximizing the user's visibility during meetings. However, executive desks also typically have more storage space in the form of drawers.
Credenza Desks
Credenza desks look like executive desks but are much smaller. They sometimes appear similar to secretary desks but have a more modern feeling overall and prioritize storage over writing functionality.
Floating Desks
Floating desks attach to a wall and have minimal or no side supports. Some desks fold up to free up space when the desk is not in use. This makes them a popular option for apartments, condos, and other cozy areas that need flexibility.
What are the old-fashioned desks called?
An escritoire is a type of case furniture, usually a low desk with a slant top. When open, this sloping lid forms a surface for writing or reading (the name derives from the French word "écrire," meaning "to write").
What type of desk is the best?
The perfect desk is easily the most crucial piece of your office furniture. Without a decent modern desk and comfortable chair, your office space will be the last place you want to spend time. The most suitable desk will help your workflow and productivity, and it will be comfortable to work at for long periods. Your desk should match your style and complement your other home office furniture. Most importantly, it should be optimal for the type of work you will be doing.
What type of office desk should I get?
The average desk is between 28″ and 30″ tall. To determine how tall a desk should be to suit your height best and improve your posture, divide your measurement by 2.5.
Small: If you're choosing a desk for a smaller space or a children's study room, you might want to browse smaller desks that are under 40″ wide.
How to measure a desk?
Measure the drawer depth, width, height. Also, make sure to open every drawer of the desk.
Measure the area beneath the desk. Compare the dimension to your office chair to make sure it will fit.
What aspects should you consider when choosing a desk?
Desk Use
Computer work: Be sure to choose a desk suited for computer work with wiring holes, electrical outlets, and, if need be, room for a CPU underneathPaperworkrk generating: You will want a desk with lots of surface space and then space to store your work like drawers, or overhead shelves, or cabinets.
For a tight space: Computer armoires are becoming popular because you can close the doors and hide away unsightly hardware. L-shaped desks, fold-out desks, compact computer desks, corner desks, or computer carts all fit into small spaces.
Office area: Which room will your desk be in? Ideally, you will want a space to be your dedicated office. However, any living room can act as a home office as long as it is orderly and has no distractions during work hours.
Work Style
Neatfreak: If you keep your workspace highly organized and clutter-free, you can get away with a smaller desk if needed.
Organized chaos: If you work in a space where you know everything, but anyone else would be lost, you may want a desk with a more extensive surface area.
Ergonomics and Space
Legroom: Most desks are 29 or 30 inches, which is enough for most people. But if you are taller, consider an adjustable desk. Many standing desks are adjustable.
Spacing: Be sure to measure your workspace to ensure plenty of space for you sitting behind the desk and other furniture.
Keyboard space: If you use a keyboard, it may be more comfortable to position it below the desk or get a desk with adjustable legs.
Desk storage: How much storage will you need? Consider whether you will need extra shelving, bookshelves, file cabinets, or other storage to help you stay organized.
Desk Surface
Laminate is the most popular choice because it is affordable and relatively durable.
Metal or steel: This is the most durable option.
Wood or veneer: If your go-to style is elegance and you are not worried about wearing and tear, this is an attractive choice.
Quality and Durability
Drawer construction: You can usually tell the quality of a desk by looking at its drawer construction.
Corners and edges: When you examine the desk, are there any fraying or damaged pieces?
The warranty: The warranty on your desk can tell you more about its quality, durability, and life expectancy.
Standing and Sitting Options
The standing desk: A standing desk is an excellent choice because it allows you to stand instead of sit, which can help blood flow and overall concentration when working long hours.