Search between these 6 Types of Blinds for your home. If you are in the search for the right blinds? We hear you, blinds are a type of window treatment, and as much as your windows make your home more enjoyable, you certainly do not want to leave them naked. Here is where different types of blinds come to the rescue.
Blinds allow you to control the amount of light your windows let in. This popular choice to cover your windows comes in various shapes and sizes. Their operating systems include standard cordless, motorized, and top down-bottom up.
The water you are trying to dress small or oversized windows, and blinds can do the job. However, with so many options available, it may feel like quite the task of knowing exactly what to choose. So we are here to help and point you in the right direction by showing you different types of blinds.
Types of Blinds
Motorized Blackout Window Shades are made of durable PVC/Vinyl material, thick and smooth, front-back same color, blackout shading, easy to clean; you can wrap the dust either use a dry or wet cloth.
Suitable for office, workshop, bathroom, kitchen, and business area, reduce noise and Insulation.
The Multi-channel remote control can control at most 16 blinds separately. Several multiple remote controls can control one motorized smart blind.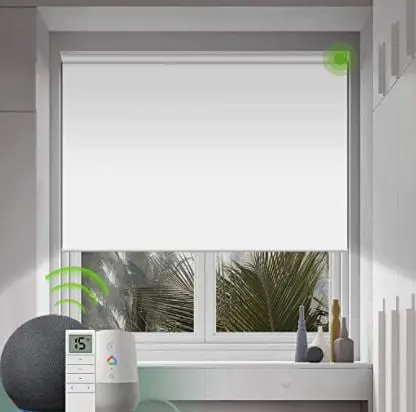 Features:
Polyester
Inside Mount, Outside Mount
Smart Motor
---
Trim at home for the perfect fit inside or outside your window frame, then install in seconds without a drill, screws, or brackets.
Block 99% of light for complete privacy, light control, and UV protection for bedrooms, children's rooms, and movie rooms.
No cords for a clean look and child safety; use included clips to raise and lower shade. They were made of durable paper that would not yellow or crack from sun exposure.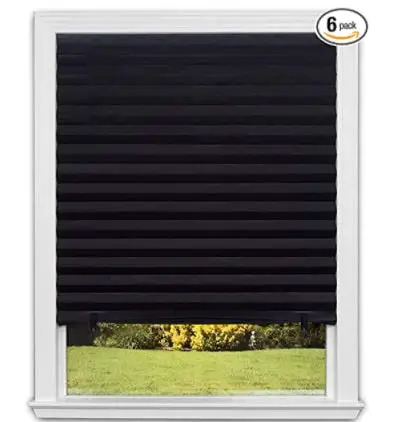 Features:
Pleated Paper
Inside Mount
No Tools needed
---
The blackout curtain's fabric is super soft and heavy innovative triple-weave polyester fabric. The same material back as of front makes it appear more elegant.
These extra wide blinds are wide enough to cover the sliding door perfectly. Besides, the curtain panel helps your patio door to block out most of the light, high performance on thermal insulated, noise-reducing, and privacy-protecting.
Triple weave blackout fabric balances room temperature by insulating against summer heat and winter chill.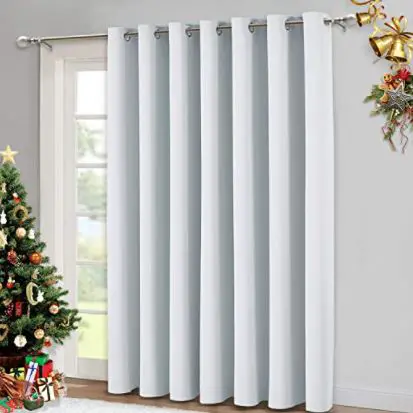 Features:
Polyester
Solid Pattern
Shading Performance
---
Ready-Made Double Layer Roller Shades and Classic Roller Shades help establish the look and feel of a building. From single offices to the most significant public areas, roller blinds will enhance the performance and appearance of any space.
Easily switch between sheer and privacy with this modern and stylish dual combi shade.
Double Layer Zebra Shades combine alternating sheer and solid fabric bands in a single shade.
Features:
Polyester
Double Roller blinds
Day & night double-layered zebra shades
---
The GII Cordless Morning Star blind is a 1″ vinyl mini blind with a 2-inch valance and safety cord tassels with a tilt wand to control light and privacy.
Push Button and Lift or Lower Bottom Rail to Raise or Lower Blind Includes tilt wand to adjust slats and control how much sunlight streams into your room.
Mounting brackets are designed for inside, outside, or ceiling installation.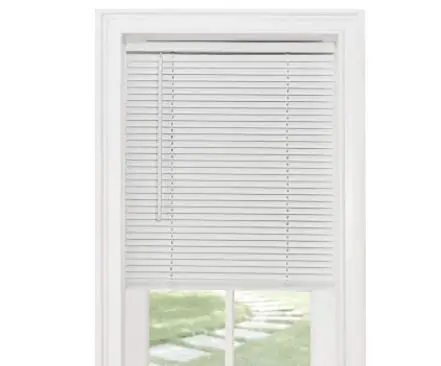 Features:
No cords
Formulated to minimize dust
Tilt wand
---
Blackout shades create a private but airy atmosphere as their blackout fabric blocks light while protecting you from harsh UV rays.
Great add-on blinds for doors, curtain for door window, and shade for French door.
The fabric roman shades for kitchen windows gently filter light while providing the privacy you desire.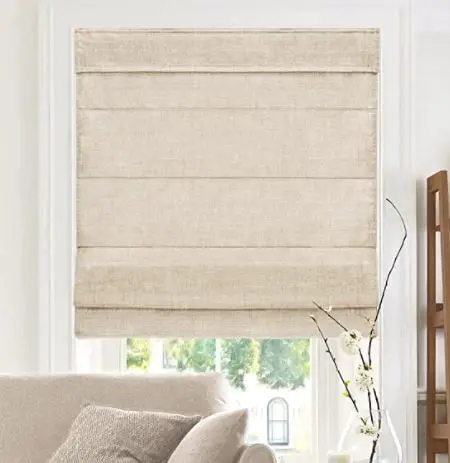 Features:
Inside Mount
Polyester
Roman shade
---
Common Questions About Types of Blinds
What are the different types of blinds?
Horizontal Blinds
Horizontal blinds are also called Venetian blinds. They're made with horizontal slats that hang from a headrail by a cord. The headrail is a metal box that makes up the top part of the blinds. It houses the mechanisms that open and close the blinds. Wood and faux wood Venetians often come with a decorative valance similar to the slats and cover the headrail.
Horizontal blinds feature two cords: a tilt cord and a raised cord. You can angle the slats with the tilt cord to let light in or direct the light up or down.
Horizontal blinds are available in wooden blinds made from natural wood, faux wooden blinds made from PVC or metal blinds made from aluminum.
Roller Blinds
Roller blinds, also called roller shades, are made from a single panel of fabric that rolls down from a top bar. They also feature a weighted bottom bar that ensures the blind doesn't blow around when it's closed.
Because these blinds are made of fabric, they're available in many color options and whimsical prints. You can find roller blinds made from blackout fabric, light-filtering voile fabrics and two-layer day-and-night fabrics.
Roman Blinds
Roman blinds, or roman shades, are one of the most luxurious window coverings. They're made from decorative fabric with horizontal stiffener rods sewn into the back in several places.
This elegant window treatment is available in a variety of fabrics, from faux silk to a rustic weave. You can also find beautiful colors and designer prints.
Perfect Fit Blinds
Perfect Fit Blinds are available in many different types of blinds. They have one thing in common: They attach directly to your window or door, not your window frame.
You can find Perfect Fit blinds in wooden, faux wood, or aluminum Venetians.
Perfect Fit blinds are also available in pleated shades or cellular shades. These options are pleated into a honeycomb shape.
Vertical Blinds
Vertical blinds are made from vertical blinds rather than horizontal slats. The vanes are weighted and linked together at the bottom to keep them in position.
Instead of directing the light up or down, these blinds will direct the light toward the left or right of the room.
They hang from a headrail and slide open to the left or right rather than opening from the bottom to the top of the window.
Aluminum Blinds
Meant for sunny rooms for their ability to repel heat, these blinds look their best in a living room or bedroom. The slats are usually 6- or 8-gauge aluminum and come in widths of ½-inch to 2-inch.
Mini Blinds
The mini blinds are similar to Venetian but shorter and often made of metal. Another variety is the even smaller micro blind, which has about half-an-inch thick slats.
Motorized Blinds
Although more expensive, motorized blinds can be connected to an intelligent home assistant like Amazon's Alexa or Apple's Siri and controlled by remote, voice, or an app on your phone.
These are well-suited for those with disabilities who cannot operate corded blinds.
Top down-bottom up Blinds
It allows you to raise the shade from the bottom or lower it from the top, providing many light control and privacy options. The bottom and the top work separately for maximum versatility.
How do cordless blinds work?
They have an adjustable tension system with multiple spool drums that raise and lower the blinds without needing any exposed cords. The cordless operation creates a clean look across your window treatments.
To operate a cordless system, grasp the middle of the bottom rail and pull up or down with gentle, even pressure. The blinds will stay wherever you place them.
How does the continuous cord loop system work?
The continuous loop option is excellent for larger blinds or shades that are raised and lowered frequently. This provides a neater look because the cord is a fixed length. Hold the front loop string and pull one hand over the other to lift the blind or shade you to operate the continuous cord loop. To lower, grasp the back loop string and pull with the same motion.
The continuous cord loop is the best option for heavier blinds like wood or faux wood and coverings on larger windows and doors.
What type of blinds is in style 2023?
Roller blinds are the most popular blinds, and this is most people's go-to. Roller blinds have customization options that can tackle most blinds' challenges; they come in the most comprehensive range of patterns and styles, and like for like, they are the lowest cost blinds as a rule.
This year, roller blinds in dim-out and blackout fabrics emerged.
What is the most durable type of blind?
Due to its construction and mechanical action, the continuous cord loop is considered the most durable and long-lasting blind control option.