How many types of pianos are there? Have you been thinking about what to do with the extra space in your living room but have no idea how to fill it in? How does a piano sound! Placing a piano in your living room is a beautiful idea, especially when you have the extra space and love the piano sound! The reason why we'll be telling you about different types of pianos is for your consideration.
A piano can be a great addition to a massive living room; in addition to the music you'll be playing for your guests, a piano is an elegant focal point. If you have limited space, though, it's worth looking into possibly going for a smaller version. Whatever your choice in piano, there are numerous options to choose from.
And with so many options available, sometimes it can get a little challenging knowing what would the right choice be. Now, do not panic; with the following guide, you'll get to learn about the different types of a piano so you can make all your piano dreams come true.
Types of Pianos
Donner 88-key fully-weighted action digital piano, precisely matching the finger strength changes, restore the real piano's finger strength, more stable and feel better.
Test and adjust the details of timbre repeatedly, making the sound more realistic and excellent, help you develop a keen ability to distinguish sound.
Input and play MP3, built-in amplifier, support external sound or headphone to meet the needs of different occasions: streamlined design, wooden cabinet with sliding critical cover to protect the key.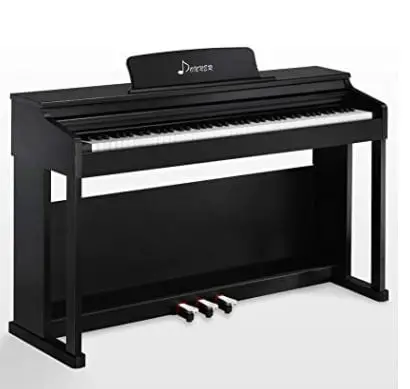 Features:
Digital piano
Built-in amplifier
Input and play MP3
---
This digital piano adopts the top sound source, digitization sampling, which provides a vivid acoustic experience for your performance.
Soft pedal, sustain pedal, rear sustain pedal, increasing lengths of sustained notes, gain a partial damper effect.
Feature sound volume adjustment, multi-tone selection, sound recording control, USB, playback, split/touch control, metronome, teaching, etc., let you learn and use piano more happily.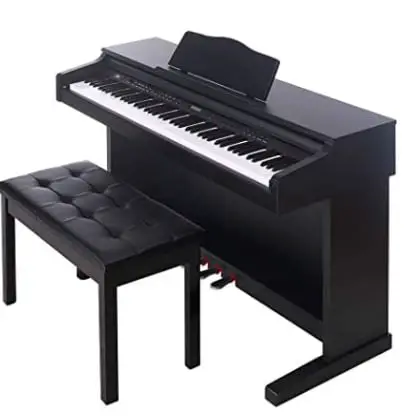 Features:
Key Digital Piano
Multi-Functional Electric
3 Metal Pedals
---
The digital electric piano with an 88-key weighted keyboard simulates the natural touch of playing the piano. Semi-weighted keys provide greater control and maximize playing comfort.
The 88-key digital electric piano with eight professionally crafted voices includes Acoustic Piano, Electric Grand Piano, Church Organ, etc. With 128 polyphony, a digital piano can provide a super clear rendition and a natural feeling of different sounds, perfect for teaching and learning.
Metronome with four types of debt for controlling rhythm; effect control for selecting or adjusting trill effect/suspension/DSP effect. All are for meeting players' different demands.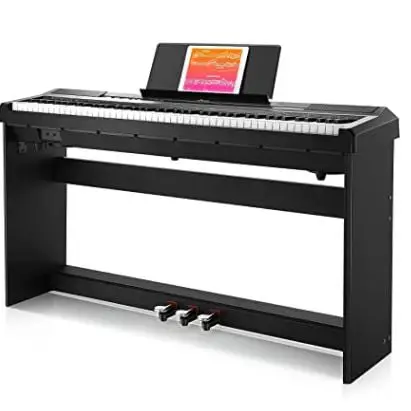 Features:
Corded Electric
Digital Piano with Stand
Half-Weighted
---
This premium piano integrates innovative learning with an elegant appearance, excellent hammer-action keyboard, and outstanding acoustic performance.
The LED lights on the piano keys work with the app and light up to show which keys to press, and it will wait until you hit the right notes before move on to the next.
Blended with technical controls via the app, classic features included built-in metronome and volume control.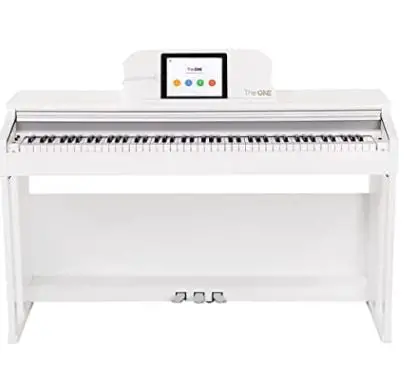 Features:
Guided by LED Lights
Supports both iOS and Android
High-Grade Piano
---
The Arius YDP-S34 digital piano helps you express that creativity through a stylish, compact design that brings elegance to any room.
Features the sound of the flagship Yamaha CFX concert grand piano and renowned GHS keyboard action, bringing the essential elements of a piano together – touch and tone.
String Resonance recreates the sympathetic sounds of other strings resonating, just like the behavior of acoustic pianos.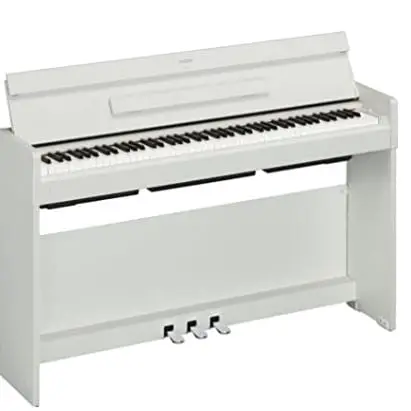 Features:
GHS keyboard action
String Resonance
Stylish, compact design
---
Proper size for children from toddlers to 7, the miniature scale fits your child's room or any place of your house. The width of the keys promotes comfortable finger placement and provides more effortless playing for small hands.
This learn-to-play child grand piano features 30 great-sounding keys and a stylish bench, producing a charming tune that can mesmerize our little pianists and spark their interest in music.
Firm construction with a smooth surface, curve-shaped corner, and a safety-hinged lid opens and closes, preventing kids from getting hurt.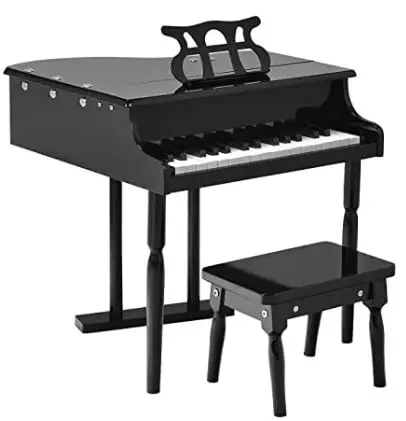 Features:
Environment friendly
Non-toxic and tasteless
MDF body
---
With Bluetooth compatibility, wireless networking enables any wireless device to connect to your CTP-88 Digital piano for expanded and convenient operation.
Connect the CTP-88 to your iPad and convert it into a recording studio. It does make practice and playing time a lot more fun.
The CTP-88 has a USB port that opens a world of exciting add-ons and extra functionality.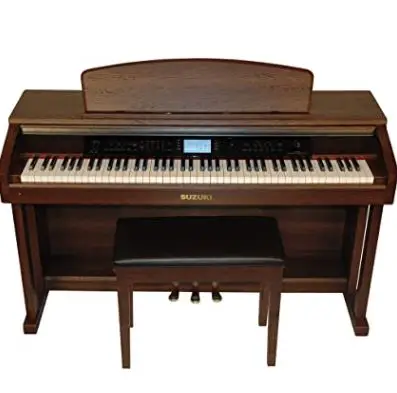 Features:
USB port
Bluetooth compatibility
Built-in music
---
Common Questions About Types of Pianos
What are the three types of pianos?
Pianos can be broken down into three types of categories. Grand pianos, Upright pianos, and digital pianos. Each of these pianos has unique features that are designed for specific pianists' needs and environments.
Upright or Vertical Pianos
Upright or vertical pianos are named after the piano's strings and soundboard position. They stand perpendicular to the ground, hence "Upright Piano."
This means that the piano hammers on an upright piano must strike horizontally to hit the vertical strings.
Grand Pianos
Grands are the largest and the most expensive type of piano. Grand piano soundboards are horizontal. This allows for much longer strings and a greater soundboard area. The piano can play faster and with more control than an upright due to the hammers being reset by gravity as a complicated combination of springs.
Digital Pianos
Digital pianos can sound very similar to uprights and grands, though how they produce their sound is very different.
When you press a key on a digital piano, instead of a hammer striking a string, a sensor is activated, and a recording of an acoustic piano is played through a set of speakers.
Digital pianos can have multiple recordings or "samples" of each note that can be played back at different volumes depending on how hard or soft you play.
How many types of piano are there?
There are two main types of piano: the grand piano and the upright piano.
What are the types of upright pianos?
There are four standard types of vertical/upright pianos:
Spinet Piano. A spinet piano is the shortest and the smallest of the vertical pianos. It is typically less than 40″ tall (below 101cm) when measured from the top of the lid to the piano's bottom.
Console Piano. A console piano generally measures between 40″ to 44″ (102cm to 111cm) tall. The action of this piano sits directly on top of the keys, with the hammers and strings in a vertical position stretching downwards.
Studio Piano. A studio piano measures between 44″ to 48″ (112cm to 120cm) tall.
It has a slightly different feel and location as the studio piano features a full-size action sitting directly on the keys.
Professional or Upright Piano. This is the tallest vertical pianos, measuring 48″ (121cm) and above. It has full sound quality because of its large soundboard and can rival many baby grand pianos.
What is the most common piano type?
Upright pianos are among the most common types of pianos on the market. They are commonly seen in churches across the country. An upright piano can fit into someone's home or a building more efficiently than the grand piano's larger sister.
What are the types of horizontal or grand pianos?
The petite grand. The smallest of horizontal pianos, the little grand still produces a mighty sound that is impressive for musicians. Its size is usually around 4 feet, 5 inches but can go as much as 4 feet, 10 inches in height.
The baby grand. The next up from the petite, the baby grand measures around 4 feet 11 inches to 5 feet 6 inches in height. The baby grand is a very popular piano for pianists, mainly due to its impressive tonal quality. Still, it also has an eye-pleasing aesthetic and is also affordable for many.
The medium grand. This piano is more significant than a baby grand, approximately 5 feet 7 inches. The size of the soundboard and the length of strings influence the tonal quality of a piano.
The parlor grand. The parlor grand piano stands at 5 feet 9 inches to 6 feet 1 inch in height. It is often referred to as the "living room" piano.
The ballroom grand. This piano is also called the Semiconcert grand and goes from 6 feet 2 inches to 6 feet 7 inches high.
The concert was grand. This is the largest of all the grand pianos, with a height of 9 feet.
I bet any piano you choose would look amazing over a beautiful rug, therefore, read about Different Types of Rugs.