There are several types of door stops in the market right now; you should first get to know the different types of door stops to make the right choice for you. Luckily, you have come to the right place because we'll be sharing different door-stop options and where you can find them.
A doorstop can be an excellent investment, especially if small humans burst through doors. Or maybe you're going in and out, and the door won't stay open. These door stops keep your door from opening too widely, and some models allow the door not to swing closed.
As you can see, door stops have been around for decades to help doorknobs from going through walls. However, choosing the correct doorstop can be a little overwhelming. Knowing about the different types of door stops will help you know what features suit you best and the pros and cons of each.
Types of Door Stops
The Wall Protector prevents holes on walls caused by the impact of door slams. It shields the contact point between the wall and the doorknob.
The wall protector can also be used to cover up any existing holes. Its thin design can be easily painted over to match any wall color.
Environmentally-friendly soft rubber material with good elasticity. Strong adhesive that allows our stoppers to last for a long time.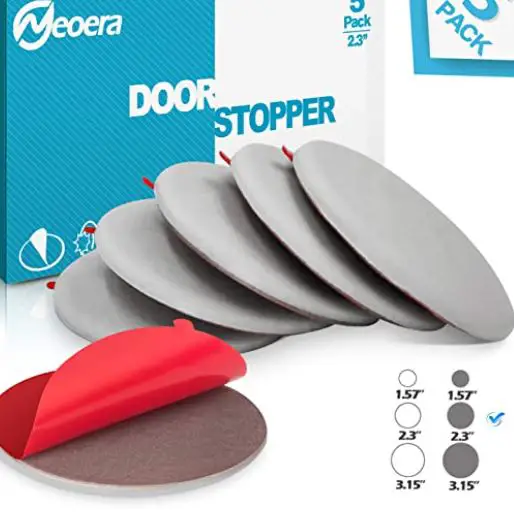 Features:
Rubber
Wall Mount
Durable
Flexible
---
Its unique rubber tips are designed to stop doors of all types without causing damage to your walls or doors. For use on hinged doors.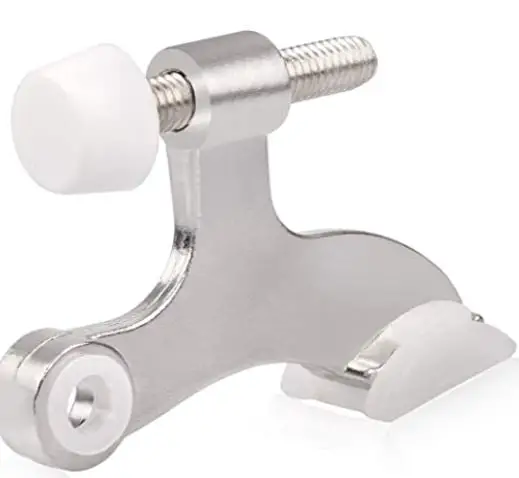 Features:
Durable
Secure
Satin finish
---
Unlike rubber doorstops, this spring door stop features a stylish spring construction. Choose from oil-rubbed bronze door stops, chrome, or satin nickel. It also comes with a free downloadable animal sticker for a playful touch.
Tired of slamming doors or damaging walls and baseboards? Jack N' Drill door stops will fix all that. It prevents damage from fast swinging doors, making repair bills a thing of the past.
To install, mark where the stopper will go. Drill a hole. Mount the stopper base, then insert the spring on the base and wall.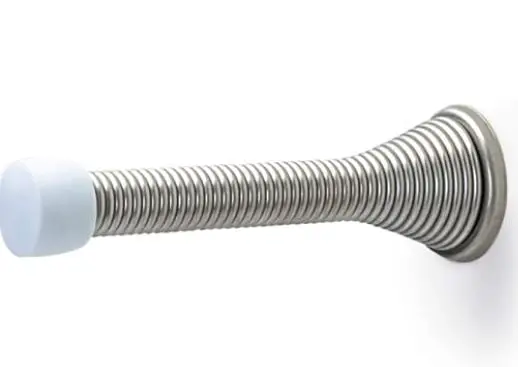 Features:
Spring design
Easy set-up
Baby and pet safe
---
With this heavy-duty magnetic door stop, you'll be able to hold the doors open when you need, keep airflow in the house, protect doors against damage, stop noise from slamming doors, and more.
It is a great tool for pet owners whose dogs like to push doors and perfect for parents who have naughty kids who like to push doors.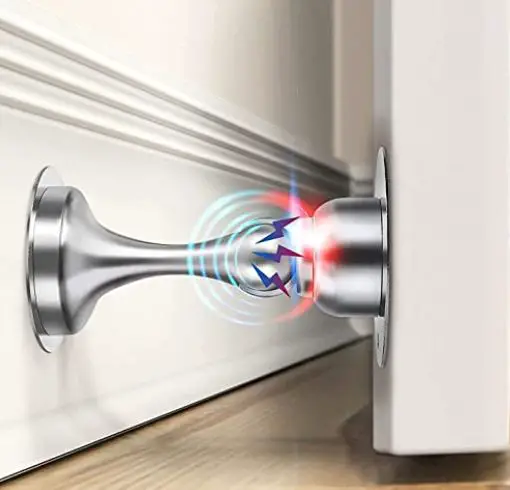 Features:
High-quality stainless steel
Solid
Sturdy
Rust-proof
---
The Door Stop Alarm offers a practical, inexpensive means to help protect yourself and safeguard your belongings. The Dorm Stop Alarm is battery-operated with a built-in siren.
It is portable and doesn't require any wiring or complicated installation, making it ideal for bedrooms, apartments, and dorms as well as for hotel rooms when traveling.
Pressure from an inward opening door sets off a 120 dB alarm that will likely startle, scare off an intruder, and wake you.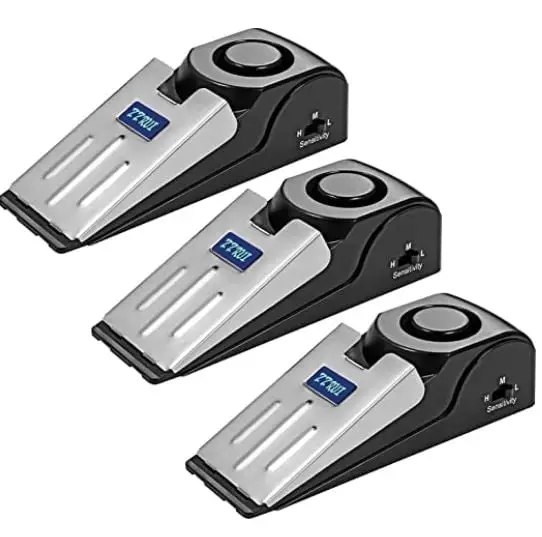 Features:
Stainless Steel
Alarm
Floor mount, wedge design
Portable
---
The door stop is made of durable and high-quality zinc alloy. It is strong enough to prevent the door knob or door handle from bumping the wall.
Added hook design can be used to keep the door open when the latch is hooked. This door stopper with a hook can keep the door open, which is great for children as toddlers open and close doors.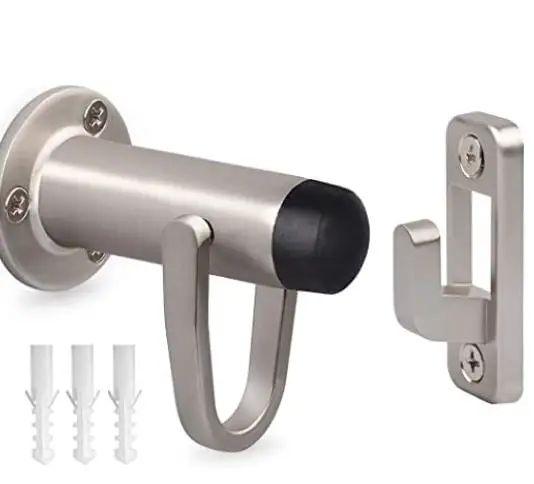 Features:
Easy to install
Rubber, Zinc
Z-Satin Nickel color
---
Keep valuable belongings from young child-proof sliding doors or hung windows (Types of Window Locks) with durable and effective locks.
This kid stopper has been proven to withstand the pulls and tugs of babies and children, keep doors and windows opened in safe.
Unlike other sliding glass door locks, this child lock is installed beside the door shelf and works once double buttons are pressed simultaneously, stopping the door slide and passing each other.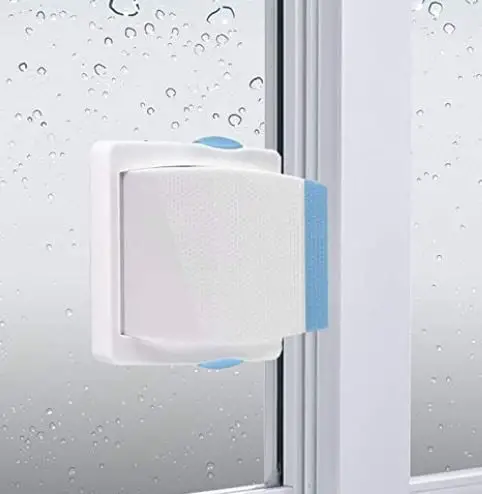 Features:
Child safety
Durable
Safe design
Simple installation
---
Use this door wedge multipack and double them up. This rubber door stopper holds open even the heaviest of doors.
With a powerful grip, this versatile door holder pack works on concrete, carpet, stone, tile, linoleum, and hardwood—a steadfast addition to any room.
This door stopper wedge comes with a bonus, easy-to-use adhesive holder – conveniently storing your doorstops safely out of the way until next time.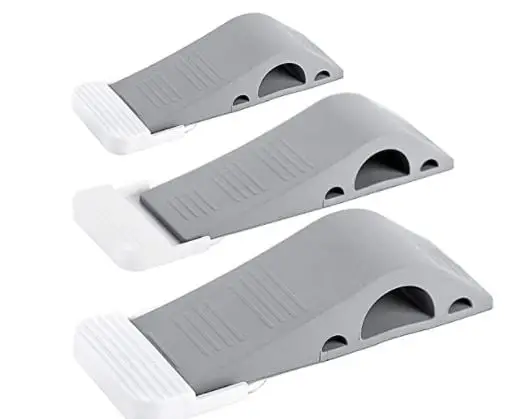 Features:
Adhesive holder
Wedge
Rubber
---
Doorstops should be both practical and pretty because the guests see them on their way to the house.
This is because a doorstop doesn't just serve to keep your doors open, but they are a way of adding a nice decorative touch to your home.
You don't need to have a boring doorstep. Your home deserves elegant décor, even if it is as simple as a doorstop.
This is great, a great floor door stop for an adult bedroom, bathroom, kid's bedroom room, or patio door.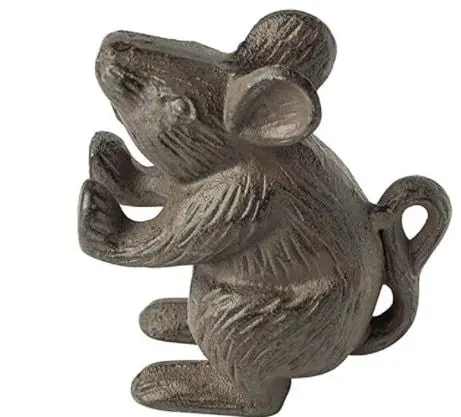 Features:
Cast iron
Rust free
An antique, rustic look
---
The door stoppers step on it for instant release; no manual lifting, No dirty shoes. They are door stops for the bottom of the door; you don't have to bend down and operate with your hands every time.
The metal door stopper can stick to all surfaces- hardwoods, concrete, tile, carpets. The door holder stopper is made of high-quality materials for long and stable use.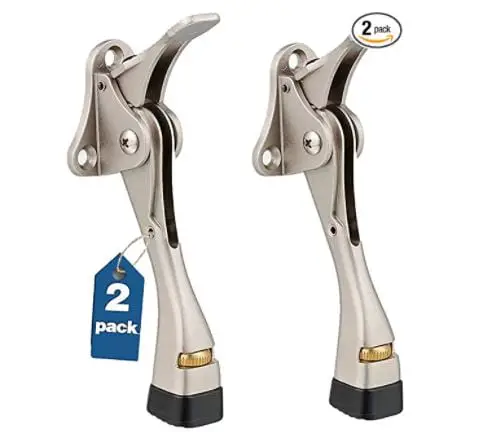 Features:
Solid grip
Easy to install
kick down design
---
Common Questions About Types of Door Stops
What types of door stops are the best?
Experts recommend using solid stops or heavy-duty hinge pin stops for thicker, solid-core doors, and if you choose hinge stops, install them on both the top and bottom hinges if the door is hefty.
If your door tends to swing on its own, consider a magnetic stop to hold the door open.
Do door stoppers go on the door or wall?
The choice of which door stop is right for you comes with different types of door stops. Door or Wall Mount – These door stops can be mounted either on the wall or on the door that would potentially make contact. These stops are the most versatile and common, available in aluminum, heavy-duty, angled, or coiled spring.
How does a hinge pin door stop work?
The hinge door stops keep your door from opening too widely, and some models allow the door not to swing closed. Installable on the hinge or put in on a needed basis.
To install, you close the door, take out the door pin, insert the hinge door stop on the pin's head, then replace the pin into the door hinge. You'll need to adjust to ensure it's hitting against the door and the wall adequately.
What is a hinge door stop?
By using a hinge doorstop, you can prevent doors from banging into your walls because it installs directly into the door's hinge to prevent the door from hitting against the wall.
What does a door stopper do?
Doorstops have an important job to make sure your home or business runs smoothly. The main purpose of a door stopper is to eliminate any damage to the adjoining wall next to your door. A doorstop can even avoid a hole in your wall.
What are some of the benefits that door stoppers offer?
Besides the obvious, getting a door stopper can also add an aesthetic touch to any room. In addition, a door stopper has the ability to improve security in your home with security door stoppers that keep intruders away and out of your exterior doors, too.
What types of door stops are there?
Magnetic Doorstop
The magnetic doorstop can be mounted both on your floor or baseboard. The powerful magnetic power holds the door open and prevents your doors from slamming into the adjoining wall.
Baseboard Doorstop
This type of door stopper features a rubber tip, and hence the name is installed directly into the baseboard behind the door.
Hinge Pin Doorstop
It gets its name because it is installed at the door's hinge and does not require you to install any door hardware into the baseboard or adjoining wall. Though it may not serve decorative purposes, it is regarded as the most discrete.
Floor-Mounted Doorstop
The floor-mounted doorstop requires some space on the floor adjoining the door. Install this type of door stopper into the floor versus the baseboard.
Spring Door Stops
Spring door stops; use a spring mechanism to keep the door from banging against the wall. These are installed on the baseboards or the wall to reduce the potential for damage.
Hook Doorstop
The hook doorstop is installed into the floor, with an additional eyelet installed directly on the bottom of your door. This is highly recommended for doors that you need to prop open for long periods of time.
Sliding Door Stopper
In most cases sliding door, stoppers are concealed and wall-mounted to reduce the shock of a sliding door closing. These are also ideal to use on cabinet doors.
Wall-Bumper Doorstop
Wall-bumper doorstops are installed higher on the wall, ideally where the doorknob meets the wall to prevent damage.
Cast Iron Doorstop
Opt for a cast iron doorstop if you want to add a rustic look to your home décor and protect your walls from damage.
Security Door Stoppers
These door stopper types block the door from opening from the outside. Security door stoppers can be used on front doors or side and kitchen exterior doors.
Rubber Wedge Doorstop
This stand-alone doorstop is often crafted from durable rubber and slides directly under the door to keep it open briefly.
Door Chocks
These are a great alternative for holding your doors open. They work great for hanging on a door hinge and keeping a door from slamming.
Kick-Down Doorstop
This type of doorstop's primary function is to prevent doors from opening too far. The kick-down doorstop allows you to activate the kick-stop when opening the door manually. This is suitable for commercial and industrial business spaces.
There are several types of door locks available that not only stop your door but protect them.
How to choose the right door stop?
Think about your door's location. Do you have enough space for a spring or solid stop? If your home has ornate moldings and baseboards, you may not want to install a stop in the wood.
The door's size and weight also determine which will work best. Smaller hinge pin stops are best suited to lightweight interior doors. Use solid stops, or heavy-duty hinge pin stops for thicker, solid-core doors.
If your door tends to swing on its own, consider a magnetic stop to hold the door open.
Choose door stops in a finish that matches your hinges and door hardware.
Look for stops with color-matching tips, so they coordinate with your home.