We found the best Types of Dressers for you! Looking for the right type of dresser? We hear you, dressers are a key piece of furniture in your bedroom, and learning about the different dressers is the right place to start before making any big investments—the reason why today we'll be telling you about different types of dressers.
If you are tired of having a mess in your bedroom, a dresser may be a step in the right direction, serving as both a storage and décor piece. It's important to choose a model that will fit in your space and serve all of your organizational requirements.
As you can see, dressers not only offer a space to store clothing and other items in their drawers but can also become a stylish piece; in other words, these should also be a reflection of you. Though it may seem a little tricky choosing the right type, we assure you after going through this guide; you'll be one step closer to your final choice.
Types of Dressers
Horizontal Dresser
Also known as a standard dresser, a horizontal dresser usually consists of two to three rows of long, wide drawers and sometimes a top row of multiple smaller drawers. A horizontal dresser has plenty of tabletop space for storage or display.
Double Dresser
A double dresser is an especially wide dresser made up of double columns of wide, spacious drawers. This dresser is ideal for couples sharing a large room and looks great with a mirror placed on top.
Combo Dresser
A combo dresser usually looks like a standard dresser with one or two cabinets attached to the side or in the center. It is easy to organize clothes in a combo dresser's differently sized drawers and shelves.
Types of Chests
Lingerie Chest. A lingerie chest is a taller and skinnier version of a standard chest and is traditionally used for small articles of clothing such as lingerie.
Media Chest. A media chest is a piece of storage furniture similar to a dresser but with an open-top shelf for a cable box. Media chests work well in both bedrooms and living rooms as an entertainment center.
Bachelor's Chest. A bachelor's chest is a small, narrow chest with about three to four drawers and is traditionally meant for a single person with limited clothing storage needs.
Vertical Chest. These are tall and narrow storage furniture pieces. If your bedroom is on the small side, a chest is an ideal option for clothes storage.
Gentleman's Chest. A bachelor's chest is now considered any small dresser or chest with three or four drawers. They typically have a squat shape and are sometimes small enough to be used as nightstands.
Raised Bed and Dresser. This is a great space-saving solution if you have a small bedroom but need storage space. It comprises a raised bed, a loft bed, or a cabin bed, with a chest of drawers or dresser fixed underneath or at its side.
Where to Buy Dressers?
This furniture stand boasts a slim, lightweight design to easily fit into smaller spaces while still providing plenty of storage space. Wood top provides a hard surface to place lamps, books, décor, and more.
The generously sized removable drawers have an easy pull handle to make opening and closing simple. Plastic feet will not scratch flooring, and they are adjustable for uneven surfaces.
It presents 5 removable drawers which you can use in or out of the closet and keep clutter under control.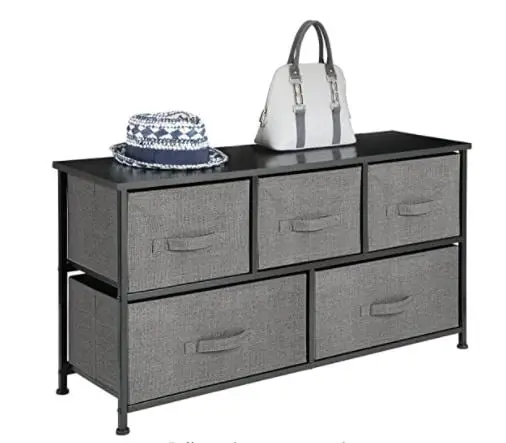 Features:
5 removable drawers
Made of breathable non-woven synthetic fabric
Strong steel frame
---
This double dresser features a curved kickboard and contrasting metal handles with contemporary shaping and finish, making it a stylish addition to any bedroom décor.
This versatile design will work perfectly in any bedroom to store clothes and linens, depending on your needs.
This double dresser is certified Environmentally Preferred laminated particle panels, providing a set of 6 drawers perfect for clothes, toys, or linens.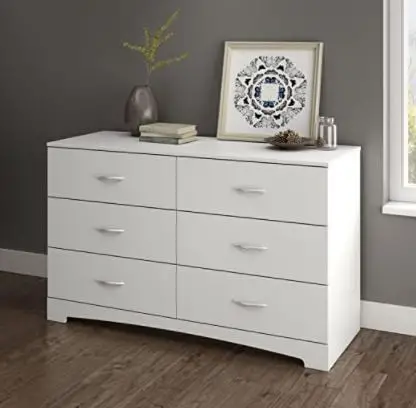 Features:
Wood
Contemporary style
Eco-friendly
---
The Brookside 3 Drawer Combo Dresser has an attractive, timeless design that will bring a touch of elegance to any bedroom or nursery.
This easy-to-assemble dresser is the perfect combination of elegant design & practical function.
With a classic design and framed drawer detailing, the Brookside 3 Drawer Combo Dresser is designed to complement the other furniture in your home. Drawers feature Euro-glide tracks and safety stops.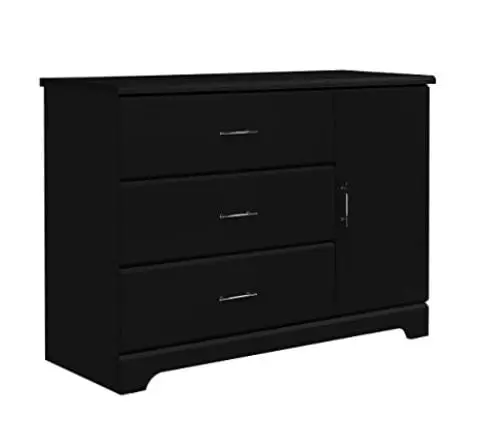 Features:
Euro-glide tracks
3 drawers & two concealed shelves
High-quality laminate
---
The Hodedah seven-drawer chest strikes a perfect balance between your storage as well as design requirements.
It is manufactured entirely out of engineered wood, making it durable for many years.
This chest has seven drawers, out of which two have locks. Each drawer has sufficient support under them to handle the extra weight, making the drawers sturdy.
Features:
Engineered Wood
Metal drawer Glides
Ample space
---
This chest offers a vintage look which can refer to a classic. Add a relaxed style to your space, creating a classic look with a casual feel.
It looks that it easily works in today's homes. Gentleman's Chest offers cottage-style décor with a vintage finish to create a shabby chic interior, homeowners love.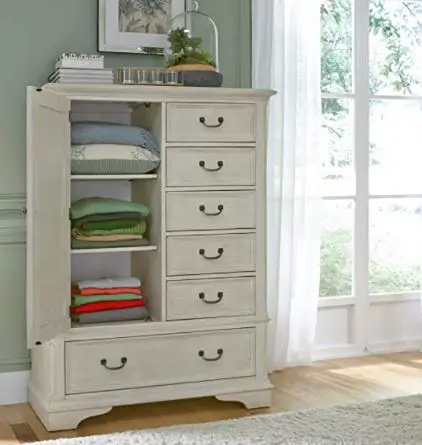 Features:
Bead Molding
Bracket Feet
Pine Solids and Acacia Veneers
---
The white plaster finish offers a striking contrast with the Maple base and Maple hardware with rustic bolts for a rustic-luxe focal point in your home.
Three drawers, with the top two drawers offering 2 removable dividers and the bottom drawer offering one cedar-lined divider.
Crafted of Maple, White Oak, and Cedar Veneers with a Solid-Wood Edge top.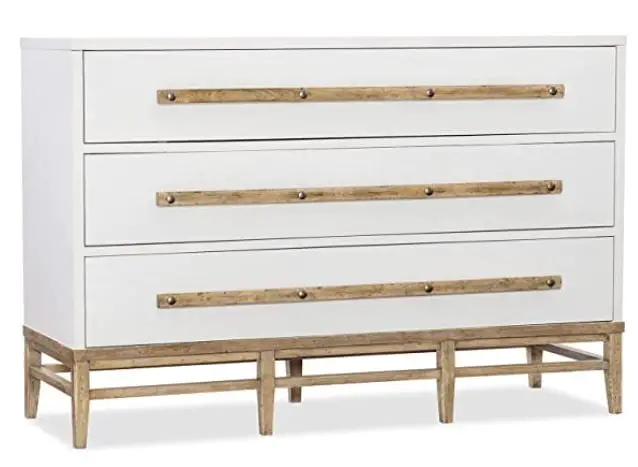 Features:
White and light maple finish
Two top drawers
The bottom drawer is cedar-lined.
---
Common Questions About Types of Dressers
What are big dressers called?
The largest dressers are known as highboys or tallboys in the British version. Also known as a chest-on-chest, highboys are made with two pieces; a base chest of drawers supporting an upper chest of drawers. The armoire is another version of a highboy; the armoire has a cabinet as the upper half with drawers underneath.
What is the difference between a chest of drawers and a dresser?
The difference between a chest of drawers and a dresser. Both pieces of furniture are typically used to store clothing and other items in a set of drawers. However, a dresser is usually wide and short, while a chest of drawers is narrow and tall.
What is the basic function of a dresser?
Dressers are meant to provide a space you can dress in front of; the top serves as a table to place clothes and provides space for a mirror.
What are dressers' styles?
Dressers can be found in different styles, including:
Traditional. Traditional style dressers have the advantage of being timeless and therefore fitting into a wide range of interior design types.
Modern. Modern dressers are all about clean lines and minimalism. This type of dresser works well in an industrial-styled home.
Antique. Antique dressers are popular in Europe, where they often date back many centuries.
Shabby Chic. Shabby chic is a style that is also known as 'cottage style,' and it is designed to make spaces feel comfortable, informal, and homely.
Rustic. Rustic dressers are also usually wooden, but the wood will not have been painted or varnished and instead is left in its natural state.
What are dressers made of?
The majority of dressers are made from wood. However, you can also find dressers made of mirrored glass, leather, metal, and wicker, also known as rattan.
What is the difference between a bureau and a dresser?
A dresser is usually placed in the bedroom or closet, while a bureau usually lives in a space like an office or library. In terms of structure, a dresser and a bureau are pretty much the same things. They're both chests of drawers used for storage, though a bureau may also refer to a type of writing desk.
What is a gentleman's dresser called?
A gentleman's chest is named for its tall cabinet section that offers enough length to hang dress pants, ties, suits, and other hanging clothing. The design features a column of drawers with a large cabinet for hanging clothes beside the drawers.
Why are dressers called dressers?
Dressers usually have 6 or more drawers and are bigger and deeper than chest drawers. In addition, most dressers also come with a matching mirror that is mounted on the back. This enables a person to dress in front of it, hence why the piece is called a dresser.