There are several Types of Ceiling Fans, in case you have you been thinking hard about replacing your ceiling fans? We hear you! Ceiling fans are a staple feature of many homes, as they provide an affordable and often stylish way to make living spaces more comfortable. The reason why today, we'll be telling you about the types of ceiling fans.
In addition to the unmistakable, ceiling fans can add significant style to any room in your home. If you think your current setup is outdated, add a new ceiling fan's function and a touch of modernity. They can also help keep your energy bills low by circulating air throughout your rooms, helping you feel more relaxed in the summer and warmer in the winter.
With many options around, sometimes it can get a little overwhelming to know the right choice. Now, do not fear; with the following guide, you'll learn about the different types of ceiling fans to make all your fan needs come true.
Types of Ceiling Fans
Elevate your space with a brand new modern ceiling fan. Perfect for bedrooms, living rooms, offices, playrooms, dens, and much, much more.
Power to light up a room but also dimmable! Ample, fully integrated LED board. This ceiling fan is 1400 lumens, 18 watts.
Controlling your fan has never been easier. The three-speed settings of your fan, as well as the light output, are all from the convenience of an easy-to-use remote control.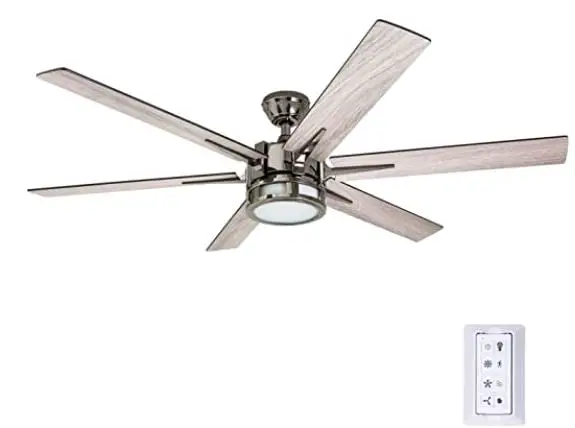 Features:
Remote Control
Fully-integrated LED
Three-speed motor
---
Hugger ceiling fan, built for rooms where extra space is needed. Perfect for rooms around 350 square feet, such as living rooms, bedrooms, dining rooms, or family rooms.
Conveniently quiet, three-speed – reversible motor. It can be run in the winter to rotate warm air and cut down on energy costs.
Get the perfect finish match with our reversible Ceiling Fan blades. Each side has a unique finish.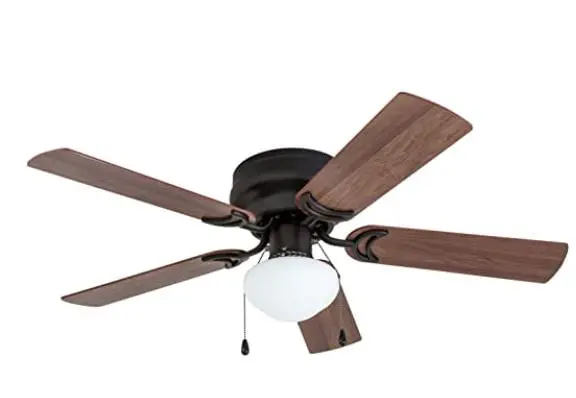 Features:
Alloy Steel
Bronze color
Traditional style
---
The Minka-Aire Light Wave ceiling fan is a unique design that draws inspiration from the ocean's graceful and tubular wave formations.
The LightWave ceiling fan includes an integrated 16 Watt Dimmable LED Light Module in White Opal Glass.
Measures 13.75″ from the ceiling to the lowest point of the fan with the included 6″ downrod. This Unique Style Ceiling Fan has a blade sweep diameter of 52″ with a variable Blade Pitch.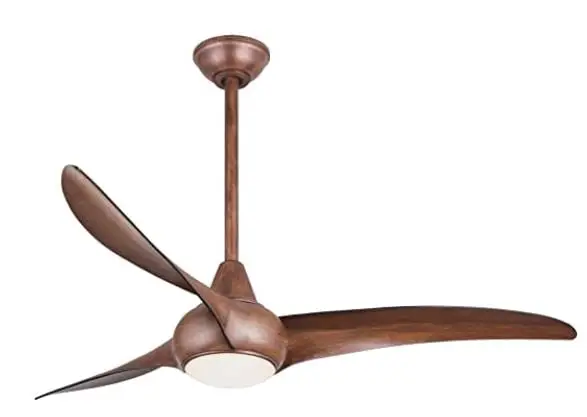 Features:
Corded Electric
LED dimmable light
Energy Star Certified
---
High-quality design featuring a bronze finish with a beautiful, Tuscan sand glass bowl light.
Each blade is a custom, hand-carved, artisan blade made from basswood; 12 Degree Blade Pitch.
Conveniently quiet, three-speed, reversible motor that can be run in reverse in the winter to rotate the warm air in the room. This fan is perfect for rooms around 350-450 square feet, such as living rooms, bedrooms, dining rooms, or family rooms.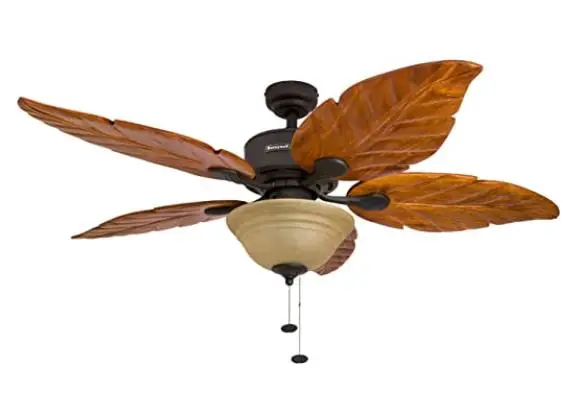 Features:
Outdoor
Quiet motor
Hand-carved wooden
---
The traditional Watson fan comes with LED light covered by swirled marble glass to keep the home interior current and inspired.
Whisper Wind delivers an ultra-powerful airflow fan with quiet performance; change the direction from downdraft mode during the summer to updraft mode during the winter.
Energy-efficient dimmable LED light bulbs let you control the lighting and ambiance of the living space; the long-lasting bulbs have a longer lifespan than traditional bulbs.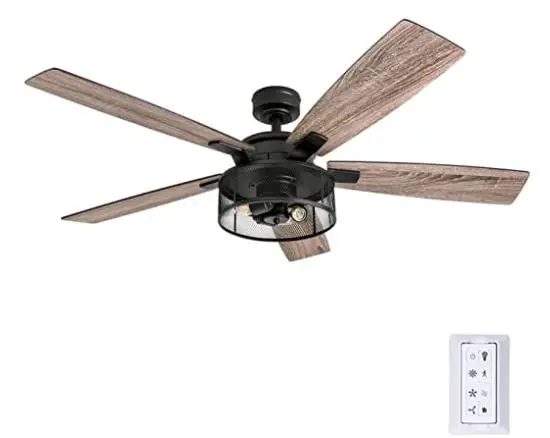 Features:
AC/DC
Multi-speed
LED light bulbs
---
Common Questions About Types of Ceiling Fans
What are the types of ceiling fans?
Standard Ceiling Fans
A standard ceiling fan is a versatile addition to your home. It comes in a variety of styles that can match any décor. Typically they have five blades and often come with a built-in light feature. The lights can be customized to fit your living space's décor and functionality.
Low Profile Ceiling Fans
A low-profile ceiling fan works best if your home has less than eight feet tall ceilings. Instead of using a download, the fan is installed directly onto the mounting bracket, keeping it at the required seven feet off the floor.
Dual Motor Ceiling Fans
This type of fan offers a central motor housing attached to two horizontal rods, each adjustable fan. It works well when decoration and personality are your goals.
These fans can be adjusted to set each one at its speed. They are typically in a large room or a public setting due to circulating air over more significant areas than just a standard ceiling fan.
Damp or Wet Ceiling Fans
Damp ceiling fans are designed with motors that resist damage due to moisture and humidity. They have all-weather blades that are resistant to warping. They are best used in areas that don't receive a lot of direct precipitation, such as covered porches, covered patios, or sunrooms. Wet ceiling fans go the next step and are designed for more industrial and weather-proof conditions.
They can handle rain and snow and are good options for outdoor areas near the beach or receive moisture in different ways.
Energy Star Ceiling Fans
Energy Star-rated ceiling fans are available in standard and low-profile options like other fans. Still, these types of fans can save you a lot of money in the long run and are exceptionally better for the environment than other comparable units.
For a product to be given an Energy Star rating, the unit must use 20-30% less energy than federal standards require.
Remote-Controlled Ceiling Fans
Many of them are available with remote controls, whether you have a standard ceiling fan, dual-motor fan, a damp outdoor fan, or some other type of fan. These are fantastic choices for anyone with mobility issues or who isn't tall enough to reach the pull cords attached to their fan. This type of ceiling fan is also great for homeowners with really high ceilings.
Industrial or Commercial Ceiling Fans
Industrial ceiling fans are necessary for vast areas. They have heavy-duty motors and are ideal for higher air delivery. They are the best choices for areas like warehouses, gymnasiums, and other large spaces. They can sometimes be reversed to lift air to exhaust fans, which prevent condensation on the ceilings.
What factors to consider when choosing a ceiling fan?
Fan Size & Square Footage of the Room
The larger the space, the bigger the fan should be. You can determine the size of the fan that you need by measuring the size of the area that you want to cool:
The 52-inch fan can cool up to a 400 sq ft room
The 44-inch fan can cool up to 225 sq ft room
The 42-inch fan can cool up to 144 sq ft room
Ceiling Height & Downrod Length
The height of the down rod is also essential. Typically, if your ceiling is 10 feet or higher, you will add one-rod foot for every two feet of ceiling space. For example, a 20-foot ceiling would need a 72-inch rod.
Airflow
The best ceiling fans have a high airflow efficiency. Airflow efficiency refers to the amount of air the fan circulates on the highest fan setting measured in cubic feet per minute (CFM).
In open outdoor spaces, a high CFM performs better at circulating the air and helping keep insects at bay. An average CFM for a 52-inch fan is around 4,000 CFM, but this can range up to 10,000 CFM.
Lighting
Many ceiling fans include integrated lighting or an optional light kit. Ceiling fans without lighting can sometimes be modified with a compatible light kit if desired later on.
Operation
Ceiling fans are available as basic pull-chain models or savvier tech-forward designs.
Installation
Installing a ceiling fan is a relatively easy task if replacing an existing light fixture. These projects typically require a ladder, utility knife, screwdriver, pliers, and an adjustable wrench. You may also need a ceiling outlet box, keyhole saw, or wire strippers.
How does a ceiling fan operate?
Standard control methods include pull chains, remote controls, wall controls, and intelligent technology.
Pull chain: This is an essential, budget-friendly option ideal for low- to average-height ceilings.
Remote control: These ceiling fans include a handheld remote that controls the fan within a close range.
Wall control: These models have controls similar to light switches, allowing the user to operate the fan from a switch or button on the wall.
Smart: Fans with innovative technology connect to Bluetooth or Wi-Fi and can be controlled by an app on a smartphone or other device. While these models tend to be pricey, they're the most convenient to operate.
Which type of ceiling fan is best?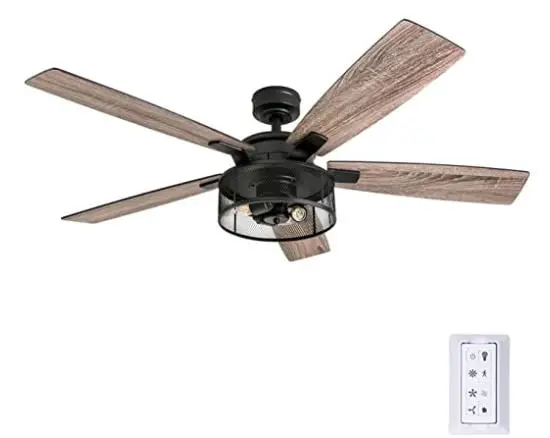 The Carnegie Ceiling Fan is viewed as one of the top recent models. It is trend-setting, industrial style. This modern fan flaunts warm rustic, dual-finish rough pine/chestnut blades, a bronze finish motor housing, and Edison-style light bulbs.
What is the most efficient type of ceiling fan?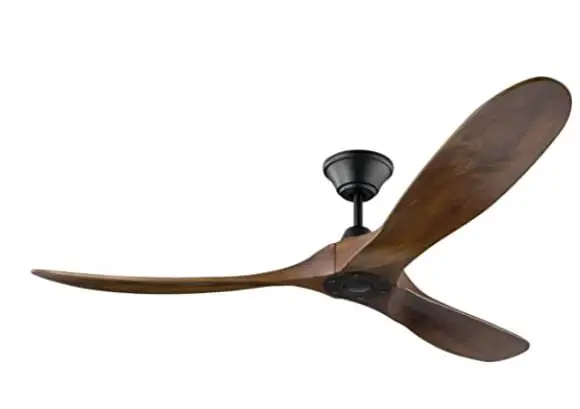 The 60-inch Monte Carlo Maverick is visually appealing, versatile, and extremely energy efficient. Its contemporary yet elegant design features rounded, hand-carved balsa wood blades that will accent any room – from living areas to bedrooms.
What is a hugger ceiling fan?
This means that they are flush mounted to the ceiling, just like a flush-mounted light. Hugger ceiling fans are a significant fixture because they allow for even rooms with short feelings to enjoy all of the benefits of a fan while still complying with safety standards.
Can ceiling fans lower the temperature?
Ceiling fans don't lower the temperature per se; they create breezes that circulate the air, making you feel up to 4 degrees cooler.