There are many Types of Closets if you need some serious arrangement, coordination, and structure in your home? Then you may want to add a closet to help you in your never-ending quest for organization and tidiness. By adding different types of closets, this daunting task may have a happy ending—the reason why, today, we'll be telling you all about types of closets.
Numerous types of closets are utilized in a variety of ways. A well-organized closet saves you the time and frustration of digging through a jumbled mess to locate an item of clothing, and while some closets store your coats and dresses, others store jars of food and electric crock pots or towels and bathroom essentials.
Closets do not need to be boring; they can also add a touch of aesthetics and function when storing things. Get to know different types of closets and get the most out of key areas at home.
Types of Closets
Check out some of the most common types of closets.
Reach-in Closet
A reach-in closet is an effective and compact way of sorting your clothes and keep them organized. These can go in your bedroom or hallway, thanks to their smaller size. Also, a popular choice because items stored inside are easily accessible.
Pantry
Instead of organizing clothing, purses, and shoes, your pantry is meant to go in the kitchen and be filled with food. That's right, in terms of storage, a pantry is also considered a closet.
Wardrobe Closet
Wardrobe closets offer the alternative of adding a closet without spending too much money or having to renovate your house. This is similar to a reach-in closet; however, you can easily move around a wardrobe closet.
Walk-in-Closet
These are the dream; a walking closet certainly takes a huge amount of space; it is basically a whole other room; however, due to that same fact, they also offer a whole lot of storage space. As the name indicates, these are big enough to walk inside of them.
Linen Closet
These are the total opposite to walk-in-closets. Linen closets are essentially a smaller version of a reach-in closet. They are generally narrow and are located in hallways between bathrooms and bedrooms. If you have a small space or want to store your clothing, a linen closet is safe.
Utility Closet
These are similar to a rich-in-closet in appearance; the difference relies on the type of items you store inside. Utility closets are great to hold essential tools or other items that aren't clothes.
---
Common Questions About Types of Closets
What is a reach-in closet?
Reach-in closets are the ones you can't stroll into and are the most common type of closets built. They usually have some door, sliding or swinging, and are designed to be grab-and-go, which means everything is supposed to be laid out, so you can see where everything is stored.
What is the difference between closet and wardrobe?
A wardrobe is a tall piece of furniture, usually, in a bedroom, with space for hanging clothes. A closet is sometimes built into the wall of a room rather than a separate piece of furniture.
What is the difference between a closet and a walk-in closet?
A Walk-in closet is a storage room with enough space for someone to stand in it while accessing stored items. Larger ones are used for clothes shade into the dressing room.
A wall closet is a closet in a bedroom that is built into the wall. It may be closed by curtains or folding doors, which clothes can be stored folded on shelves.
In some houses, closets are built in a rather small space; however, the closets are made in a larger space to become a walk-in closet in other houses.
What is a wardrobe closet called?
A wardrobe or armoire is a standing closet used for storing clothes. The name of wardrobe was then given to a room in which the wall-space was filled with closets and lockers, the drawer being a comparatively modern invention.
The armory's wood design gives out the sense of antique and old times. Although the design has a unique look that makes it stand out, it has some disadvantages.
What is the main purpose of all types of closets?
The main function of all types of closets is to keep your belonging safe and arranged like clothes and shoes.
What are some of the benefits of walk-in closets?
A walk-in closet is a perfect choice for storing your clothes, shoes, jewelry, miscellaneous accessories, and a lot more.
A walk-in is the ideal private spot that you can use for getting dressed in minimum time. You can install a mirror, a hairdryer, and other stuff and change the space into a chic dressing room.
You can safely store all your valuables here and lock the door.
A walk-in closet is spacious in the area; organizing and retrieving stuff becomes a breeze.
A walk-in closet allows people to enjoy the experience of choosing the perfect outfit for the day.
Aspects to consider when buying a closet
Type
Now that you know the basic types of closets, you need to determine which type is the most convenient for your storage needs.
Location
Think about where you want your closet to go; closets for food and utilities do not in the same spot as closets for clothing.
Users
If the closet is meant for your kid's bedroom, decide what will work best for them. Are they tall enough for a wardrobe closet, or will they do better with a linen closet?
Doors
You'll be able to choose between hinged, sliding, and folding doors.
Storage capacity
This element goes without saying; think about the items you intent to store in your closet and go from there.
Where to buy Different Types of Closets
Tidy squares offer a range of strong, solid, high-quality reach-in and walk-in closet systems built with carefully selected materials.
Materials include plywood, melamine-coated particleboard, and manufactured wood.
The Tidy Squares deluxe reach-in wardrobe kit is the perfect solution for anyone needing to add extra storage.
The storage tower is perfect as a bookshelf or for shoes, clothes, sports gear, beauty, utility, or pantry items.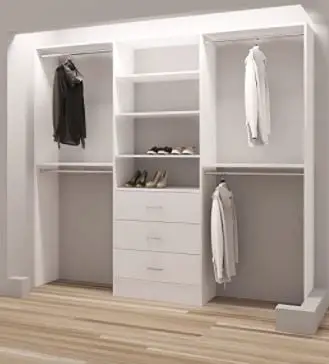 Features:
Engineered Wood, Metal
Freestanding design
Rectangular
Easy Track organizer fits in closet sizes and hangs on your wall without removing or cutting baseboards.
Includes 3 drawers, 20 shelves, and 5 rods to store all of your clothing, shoes, and other personal items.
It also features an easy-glide pull-out with full extension for easy access. Coated with durable and scratch-resistant laminate for long-lasting use.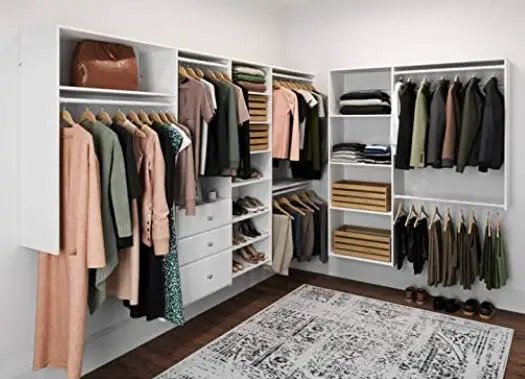 Features:
Easy to install
Durable
Plenty of storage
This heavy-duty frame construction wardrobe provides extra hanging and storage space for seasonal clothes or other daily accessories.
There is roomy space for hanging clothes and shelves for storing garments or other stuffs, like shoes, bags, baby toys, and hats.
The fabric cover keeps everything dust-free and makes your room neat. Featuring a 16 mm diameter, these sturdy metal tubes offer a high load-bearing capacity, ensuring the long-lasting service of this wardrobe.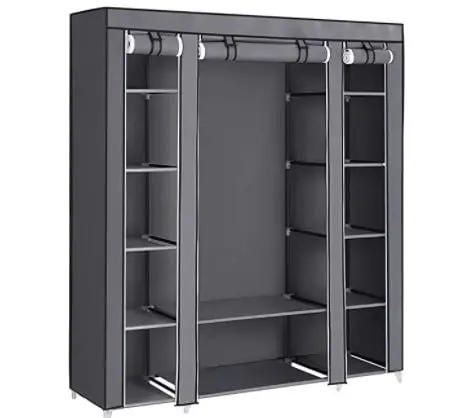 Features:
Quality PP Plastic
Durable
Spacious
Dustproof cover
With this solid wood Grand wardrobe, you can hang, shelve, store and lock! Look no further if you require an all-in-one secure storage wood closet.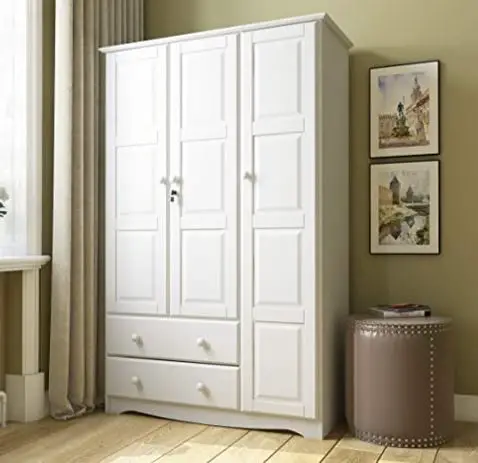 Features:
100% Solid Pine Wood
Requires assembly
5 small shelves
Give your bathroom the storage options it needs without having to sacrifice the style that you love with this linen closet.
This linen cabinet tower features open shelving with two adjustable shelves that can move to different heights to create flexible storage for items of all shapes and sizes.
Conveniently store and display items like stacks of washcloths, decorative plants, your bottles of perfume, and a box of tissues.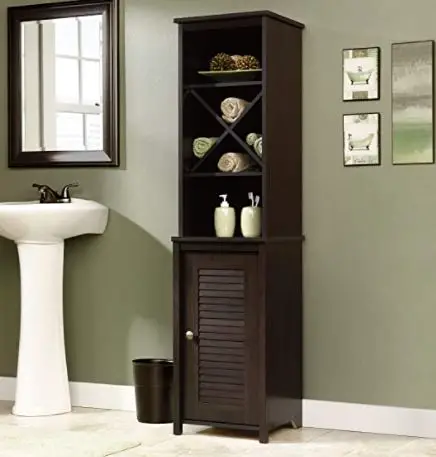 Features:
Open shelving
Adjustable shelf
Engineered wood