There are several types of fans to choose from! If you can't sleep without a fan, we are here to help. Indeed fans are one of those staple items we can't leave without, especially during those tough warm weather months. If you are looking for the best fan for you, it is always a brilliant idea to do a little research before spending any money. So, today we'll be telling you about different types of fans.
Fans are a great, cost-effective way to reduce the more intense heat of the summer without having your AC on for nearly the whole day. Whether at home or outdoor workspace, choosing the right fan is elemental to staying cool enough to do you.
However, with a vast number of options, it can be troublesome to know what the right choice should be. The reason why we are here is to help and point you in the right direction by giving you different types of fans and more valuable tips.
Types of Fans
This 24 Inches roll-around tilt fan from Tornado is ideal for garages, basements, covered patios, workshops, or even warehouse and factory stations, and it tilts a full 360 degrees.
With a heavy-duty 3-Speed thermally protected PSC motor making it the most potent drum fan on the market.
Tornado's new technology reduces the noise level by 40%, making it one of the quietest fans on the market. Ideal for use in Industrial, Commercial, Residential, Greenhouse, Workshop, Patio, and Basement.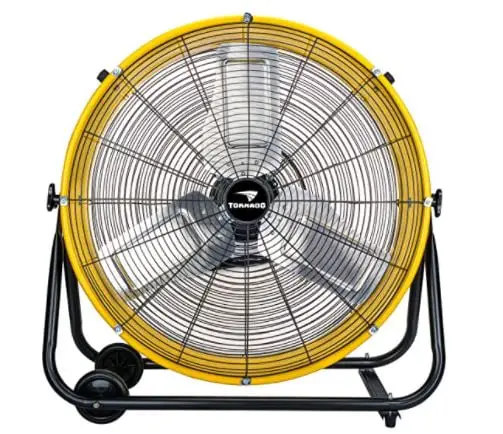 Features:
Rust-resistant grille
Corded Electric
Quietest fan on the market
---
2-Blade oscillating pedestal fan with automatic oscillation and adjustable height and vertical angle.
Engineered for whisper-quiet operation, high-quality silent motor works at low noise level.
Three power settings and three breeze modes (nature, sleep, normal) with wide oscillation for cooling medium to large rooms.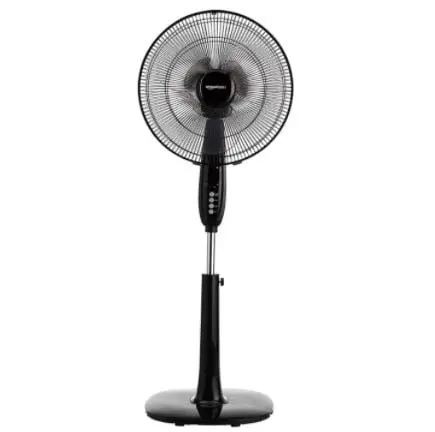 Features:
Remote
Corded electric
Floor fan
---
This tower fan is equipped with a powerful motor and a unique air-duct that can provide a velocity of 24ft/s, effectively distributing airflow around the room. It lets you enjoy the cool quickly.
This bladeless fan adopts a unique air-duct design with fluid mechanics and minimizes noise. It brings a comforting, calm, and ultra-quiet breeze, helping you to sink into a relaxing night of rest. What about cleaning these types of fans? Check out How to Clean Lasko Tower Fan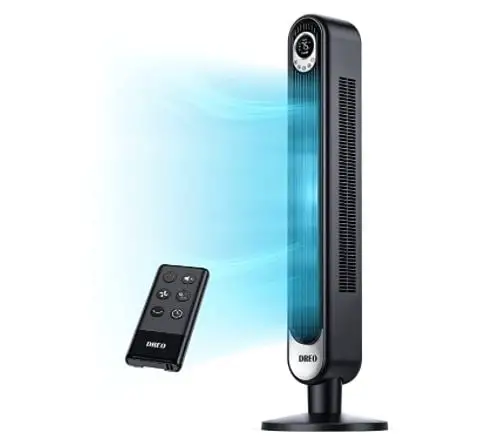 Features:
6 Speeds+3 Modes
Clear LED Display
Lower Noise
---
The 3-speed, Hurricane Classic 16 inch Wall Mount Oscillating Fan allows you to ventilate any space from above; offers side-to-side oscillation and lock-in-position modes; ideal for homes, greenhouses, garages, gyms, and workshops, and more.
90 degree oscillating wall mount makes it possible to easily change the fan's position and direction, allowing you to customize airflow area and reach.
The quiet, powerful motor allows you to adjust for ideal airflow and set fan speed; mount high, and control desired speed with the easy-to-reach pull cords.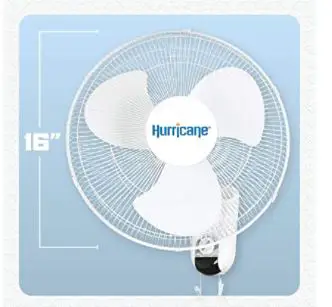 Features:
Corded Electric
Wall Mount
90-degree oscillation motion
---
This Comfort Zone Desk Fan sits on any tabletop, making it ideal for home, office, dorms, RVs, and more.
Wherever you need extra airflow, this fan will be on floors, desks, tables, and countertops.
For a small fan, it gives off incredible airflow. You can get the custom breeze you want, featuring high and low settings.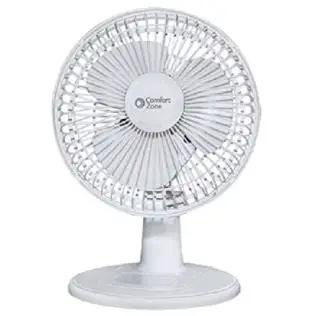 Features:
Corded Electric
Manual
Table fan
---
With unique soft TPE material, the blades are very safe. If you accidentally touch the rotating blades, the dull blades will automatically stop and keep you safe.
With a unique design, this battery-operated fan performs the dual purpose of keeping you cool and charging your phone.
The flashlight is quite bright and can be helpful in dark areas or if electricity is out.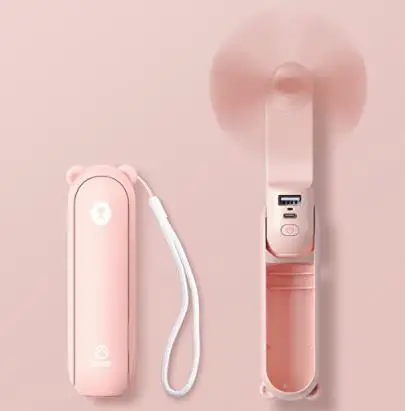 Features:
Flashlight
Charge Pal
soft Blades
---
They are specifically designed for pressure-demanding applications such as CPU or radiator cooling.
The new redux edition reissues this award-winning model in a streamlined, accessibly priced package that has been reduced to the essential core: the NF-P12 premium fan.
The performance-oriented top speed of the 1700rpm PWM version is ideal for high-efficiency case, radiator, CPU cooling, and other applications that require both extended performance headroom and PWM for automatic speed control.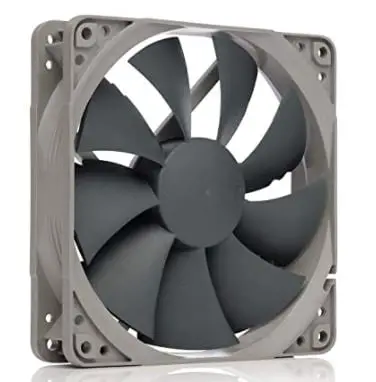 Features:
12 Volts
High performance
Pressure-optimized blade
---
Common Questions About Types of Fans
How many types of fans are there?
There are three main types of fans used for moving air, axial, centrifugal, also called radial, and last but not least, cross-flow, which is also known as divergent.
What is the most efficient type of fan?
Ceiling fans are considered the most effective of these fans because they effectively circulate the air in a room to create a draft throughout the room.
What are the two types of cooling fans?
Cooling fans can be mechanical or electric.
The engine's rotation drives mechanical fans. They are bolted to the water pump and turned by a belt. There are two types of mechanical fans, clutch fans and flex fans.
Clutch Fans have fixed blades. They require a coupler to engage and disengage the fan. This coupler is called the Fan Clutch.
Flex Fans do not need a clutch. At high rpm, the blades "flatten out." This achieves the same function as disengaging the fan. However, flex fans require a Fan Spacer. The spacer Properly Locates the Fan in the Shroud to optimize airflow.
Electric Fans are driven by a dedicated electrical motor, not the engine. The Fan Relay controls the motor based on input from a sensor or the engine control unit.
Which type of cooling fan is best?
Clutch fans are the right choice for stock or mildly modified engines. They will adequately cool the engine. Just be sure to use the fan and clutch designed for your application. Using the wrong parts could result in poor cooling, excessive noise, reduced fuel economy, and fan clutch failure.
For high rpm use, flex fans are considered an upgrade over clutch fans. They can be a good choice for modified vehicles.
Electric fans are the best choice for many vehicles. They are more expensive and can require modifications.
What are commercial fans?
Commercial, or Industrial fans with their durable construction, are ideal for use in a commercial setting where they can ventilate large, open spaces and withstand prolonged operation in harsher environments. Some smaller models can also be helpful in a home setting for larger outdoor areas as well.
What are the types of commercial fans?
Ceiling HLVS Fans: These fans run quietly since they operate at low speeds but still deliver high-volume airflow. Great for covered outdoor eating areas, large warehouses, and gyms.
High-Velocity Floor Fans: These deliver powerful airflow and are ideal for large office spaces and workshops, including artist studios, common areas in living communities, and schools.
Drum Blowers: These extra-large, heavy-duty air circulators have wheels to make them more easily portable. Ideal for industrial workshops, warehouses, auto shops, loading docks, and more.
Wall-Mount Fans: When space is limited but needs robust air circulation, these fans are a good choice. Ideal for barns and other farm facilities; they provide cooling relief without getting in the way.
What are household fans?
Household fans are ideal for use around the house or office space and are often designed with versatility in mind. These include heavy-duty or shop fans ideal for mitigating heat in workshops, garages, and other indoor and outdoor places around your home. There are a variety of designs, colors, and uses to consider when deciding on just the right fan.
How to Clean a Lasko Fan?
First, unplug the fan from the electrical outlet.
Then, gently remove the dust and debris from the fan blades and grill using a soft cloth or brush.
To clean the fan blades more thoroughly, use a damp cloth with a small amount of mild detergent, being careful not to get water into the motor or other electrical components. Wipe the blades gently with the damp cloth, then dry thoroughly with a clean towel.
To clean the grill, use a vacuum or brush to remove the dirt and dust, and then wipe the grill with a damp cloth. For particularly stubborn grime, use a toothbrush or other small brush to scrub away the dirt gently.
Avoid getting water or cleaning solution on any electrical components of the fan.
After cleaning, allow everything to dry completely before reassembling the fan and plugging it back in. By following these simple steps, you can ensure your Lasko fan is clean and functioning properly.
How To Clean a Honeywell Fan?
If you are wondering How To Clean a Honeywell Fan, well is relatively easy and only requires a few simple steps.
Firstly, ensure that the fan is unplugged from the electrical outlet.
Then, use a soft cloth or brush to gently remove any dust and debris from the surface of the fan blades and grill.
To clean the fan blades more thoroughly, dampen a cloth with water and a small amount of mild detergent. Be careful not to get water into the motor or other electrical components.
Gently wipe the blades with the damp cloth, and then dry them thoroughly with a clean towel.
To clean the grill, use a vacuum or brush to remove the dust, and then wipe the grill with a clean, damp cloth.
Allow everything to dry completely before reassembling the fan and plugging it back in. Following these simple steps, you can ensure your Honeywell fan is clean and functioning properly.
What are the types of household fans?
Personal Fans: If your office, cubicle, even bathroom stays too warm, a personal fan is just the ticket to keep air moving, so you feel cooler. Travel fans also fall into this category.
Tabletop and Floor Fans: These work well to make bedrooms, home offices, studies, and kitchen areas more comfortable. Choose a size and style that best fits the room's layout and size.
Tower Fans and Pedestal Fans: Tower fans are slim in design and excellent for medium to large rooms where floor space is limited. Pedestal fans elevate the fan head, which helps to circulate air more evenly and are lovely for large rooms.
Misting Fans: If you love spending time outside but need a bit of relief from the summer sun, a misting fan provides airflow and a fine mist to keep things ultra-cool.
Ceiling Fans: These fans are ideal for large rooms, including master bedrooms and porches, to provide cooling air circulation in the summer and the destratification of warm air in the winter.
Garage & Shop Fans: These are heavier-duty than ordinary household fans, designed for use in garages, workshops, greenhouses, and other areas that need more airflow and durable design.
How is fan power measured?
Fan power is usually measured by the airflow it generates in cubic feet per minute or CFM. The higher the CFM rating, the more influential the airflow. Whether household fans or commercial/industrial fans, most fans have more than one fan speed, so you have a range of airflow.
What aspect should you keep in mind when buying a fan?
Main features to keep in mind include:
Automatic Oscillation: This feature automatically allows it to move from side to side, widening the airflow coverage.
A number of Fan Speeds: If you want airflow options, ensure the fan has more than one speed.
Adjustable Height: This indicates that you can change the height of the fan head on the pole.
Adjustable Fan Head: More common on giant floor fans and industrial fans, the fan head can be pivoted up or down to move airflow in a specific direction.
Remote Control: A convenience feature, this could be important depending on the placement of the fan.