We have 8 Types of Benches to go perfectly in your garden or any space in your home? Or how about one that can be used inside the home? As you can see, there are many different types of benches, and if you are thinking of spending in one, you may find it helpful getting to know about different types of benches.
Though most benches are suitable for outdoor use, other types would look fabulous inside your home. Then you have benches that are also classified depending on the material they are made of, which is important in the final buying decision.
Now that you know that there are different types of benches to choose from for your upcoming décor project get to know about some of the most common types and feel free to pick the one that meets your needs best.
Types of Benches
Modern Bench
The modern style has the notion of good clean lines and utility fused with beauty. These pieces can fit into any contemporary space or stand out in a more traditional setting. Popular design styles are acrylic frames, faux fur, but also natural wood, and geometric shapes.
The bench is constructed of a sturdy kiln-dried rubberwood and ash wood frame.
Boasts tapered solid wood legs in a rich mahogany finish to convey a refined aesthetic with a hint of mid-century flair.
The seat cushion is crafted of genuine Italian tanned full-grain leather upholstery featuring piping and tufted detail—high-density foam with polyester filling.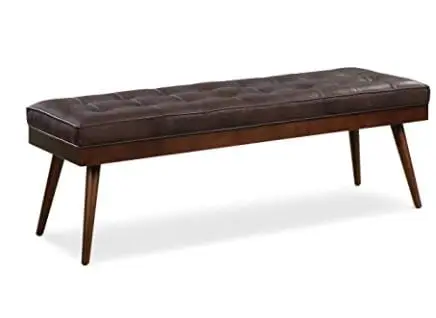 Features:
Leather
Wood
High-density foam cushion
---
Outdoor Bench
Any bench that can withstand the weather to be positioned outside in the backyard or garden is an outdoor bench. These are usually made of durable materials like solid wood, metal, concrete, or resin.
This rustic acacia wood bench adds a perfect focal point to your outdoor space. This bench has an iron frame that accentuates the sandblasted finish to offer any arrangement a raw yet refined edge.
Features:
Acacia wood
Iron frame
Sandblast finish
---
Bedroom Bench
A stylish and comfortable bench is beneficial in any bedroom to accommodate storage needs or additional seating when you want more people.
This attractive ottoman is extra strong and durable and features a beautiful stitched linen exterior and large interior storage. Whether you use this ottoman in your entryway, living room, family room, basement, or bedroom, it will allow you to hide away all that mess.
The Storage Ottoman is an elegant and functional solution for any room setting. Linen and subtle stitching give this ottoman a rich, luxurious look to any room in the house.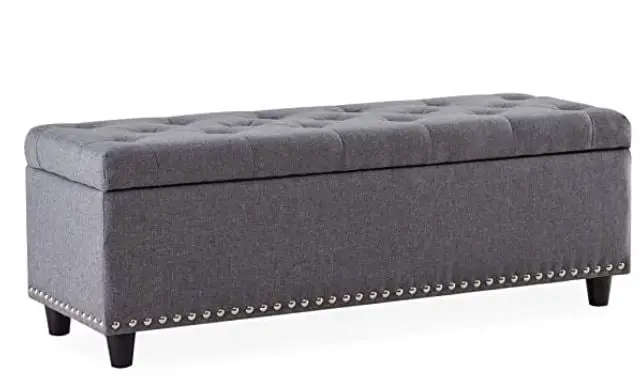 Features:
Stylish
Storage solution
Versatile
---
Entryway Bench
Most homes need a bench in a convenient place by the front door to store clothes or shoes. An entranceway is appropriate for the typical wooden bench with different storage options.
Heavy-duty bench top is made of 100% natural bamboo and can hold up an impressive 300lbs. It can be used both indoor and outdoor.
Each shoe rack shelf accommodates up to 4 pairs of shoes, being an ideal size of 28.5″ long x 12.5″ deep x 17.7″ tall.
This entryway shoe rack bench makes everything look beautiful, and it will match almost any décor. It fits perfectly in your hallway, Closet Shelving, living room, bedroom, bathroom, patio, or kitchen.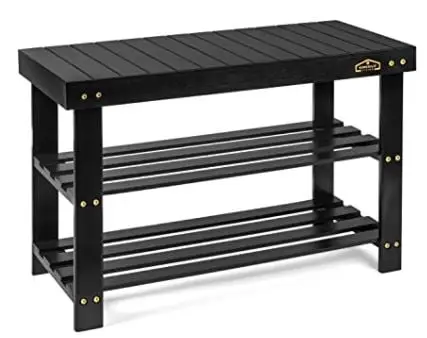 Features:
Easy to assemble
Sturdy
Durable
---
Bathroom Bench
A bench built to be placed near a bathroom or shower. It is usually near disabled people, and the bathroom doesn't have anywhere else to rest.
This is a 20x16x13 sustainably harvested 100% solid Teak Wood shower bench stool fully assembled.
The teak is hardwood. It is strong and durable, able to withstand extremes of heat and cold. Whilst this makes it excellent wood for outdoor furniture, it also means that it can provide a lifetime and more use indoors.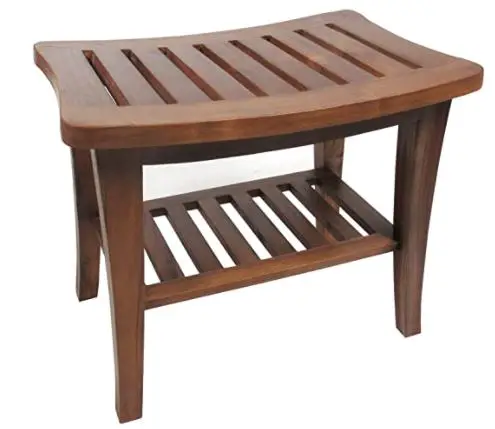 Features:
Water-Resistant
Durable
Outdoor/indoor use
---
Wood Bench
Wood offers traditional and enduring styles that can't be beaten, while metal performance is reliable and institutional-oriented.
Made of reclaimed pine wood with a naturally distressed finish.
The butcher block styling and weathered treatment are charming elements that put a casual-cool, farmhouse-chic spin on this bench.
Benches are great for casual seating. Place it at the dining table alongside chairs, or set it by an entryway or eat-in kitchen area.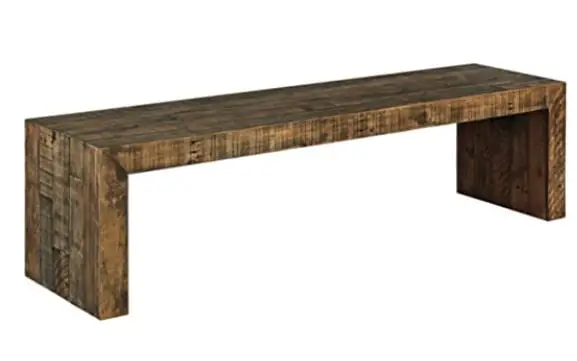 Features:
Pinewood
Distressed finish
Casual look
---
Metal Bench
Metal storage benches are less common than wood, although they are still found in various styles. Different types of metals are usually used, such as stainless steel, aluminum, wrought iron. Due to the durable nature of the material, these benches are usually used outside.
This high-quality metal bench is ideal for the hall, sitting room, garden, backyard, patio, and so on. Metal frame and solid wood keep it last longer.
The compact high curved back design provides maximum support and comfort for you. Feet are concealed with non-mar foot glides to protect your floor.
Solid wood top for comfortable seating and keeps the dining room bench last longer, structure seats 2-3 people.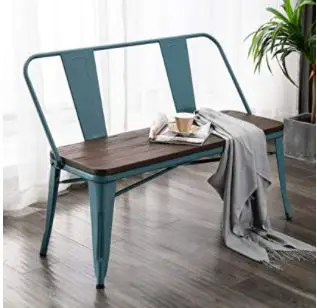 Features:
Elegant
Premium metal construction
Strong
Durable
---
Plastic Bench
The plastic bench is a great outdoor item that provides a place to sit and keep cushions dry. It is lightweight, weatherproof, and perfect for any person.
The Lifetime 6-foot fold-in-half bench is constructed of high-density polyethylene & powder-coated steel.
The lightweight design makes it simple to store and easy for anyone to set up and takedown.
The bench is UV-protected, will not crack, chip, or peel, and is built for indoor and outdoor use.
The patented steel frame design provides a sturdy foundation and is protected with a powder-coated, weather-resistant finish.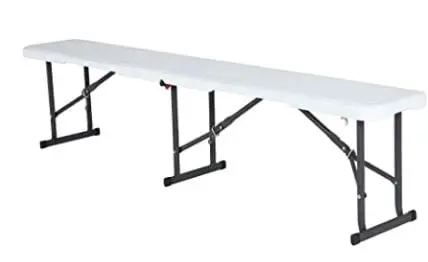 Features:
Uv-protected high-density polyethylene
Safety locking mechanism
It folds in half for easy transport and storage
---
Benches Brief Story
Some journals trace its origins as back as 3000 B.C. in Egypt. It kept evolving through the Mesopotamian era and the Minoan era. We have found distinct styles of benches used in Greek and Gothic eras. There is enough proof to conclude that benches were integral to seating in many different civilizations. However, they can't be traced back to a single inventor.
Throughout history, benches have been used to sit on and for laying down to sleep and setting up food to eat. Nowadays, benches provided much more utility than people can even imagine. As time passed, benches were given different styles for various purposes; and could be made from wood, metal, plastic, or stone.
Additional Questions About Types of Benches
What are benches used for?
In addition to the obvious function of sitting, benches are also placed to give an exotic or elegant look to its surroundings. They can also give people a sense of homeliness or comfort. It all depends on the material and the style it is made in.
What wood are park benches made from?
Teak, possibly the ideal wood for outdoor furniture. Durable, waterproof, resistant to sunlight, and very easy on the eye.
What are the different types of benches?
Metal benches
Recycled plastic benches
Wooden benches
Concrete benches
Aluminum benches
Other varieties of park benches include:
Memorial benches
ADA benches
Children's benches
Buddy benches
Middle bars
What are garden sits called?
Garden furniture, also called patio furniture or outdoor furniture, is specifically designed for outdoor use. It is typically made of weather-resistant materials such as rust-proof aluminum.
What is a park bench used for?
The park bench is, for many, a symbol of friendship. It is used within society as a meeting space and also a place to sit and talk.