Do you wish to declutter and keep your stuff nice and tidy once and for all? Then it sounds like you may need a mudroom locker. A mudroom locker can help you transform what now probably looks like a messy room into a completely different one—the reason why we'll be telling you all about different types of mudroom lockers.
Mudroom lockers are parent's best friends when it comes to keeping all of your kids' stuff organized. With a mudroom locker holding everything in place, you won't have to step into a room and twist your ankles ever again.
Whether you are organizing shoes, bags, umbrellas, or coats, ensuring quality is also crucial. And with so many options, it can become overwhelming to make the right choice. So we are here to help and point you in the right direction by giving you some of the best types of mudroom lockers that will offer the storage you've been dreaming about.
Types of Mudroom Lockers
Instantly tidy up and organize your hallway or entryway with our industrial hall tree. Perfect for storing your outdoor attire, from hats, coats, and shoes, to umbrellas and recreational gear, as it provides a coat rack with seven hooks above and a bench with a shelf below.
The high-grade manufactured wood, along with the powder-coated metal frame, creates an industrial-inspired design.
You'll quickly have a place to keep your family's jackets and backpacks off the floor, making this hall tree The perfect, practical storage and style piece in your home.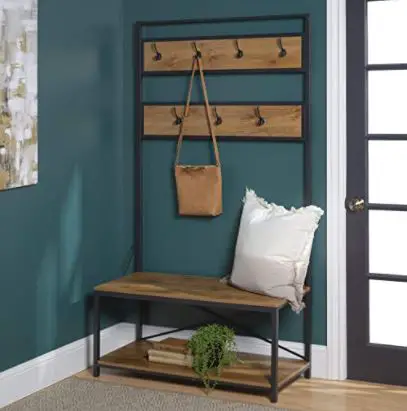 Features:
Steel, MDF frame
Wood, Alloy Steel
1 Shelf
---
This kids locker has a dual double-sided hanger that offers them a place to hang their coats & backpacks. Additionally, there are two small cubies above & below to store their lunch boxes, shoes, hats & other belongings.
The open-access design provides easy access & visibility for their items. Attractive natural finish fits right into any room at school classroom, daycare, office, mudroom, home.
This cubby coat locker is coated with Tuff-Gloss UV Finish making it easy to clean & resistant to stains. For Cleaning – Wipe clean with mild soap & water solution.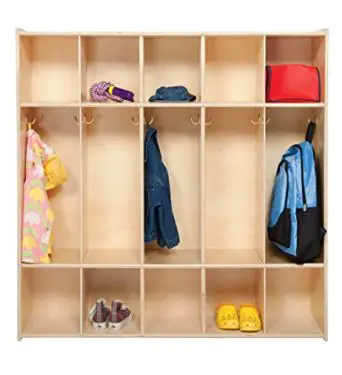 Features:
Child safe locker
Durable
Ample storage
---
Customize your entryway, hallway, or workspace with these versatile organizers. Fit one organizer in a narrow apartment hallway or combine multiple pieces in a large foyer to create a custom look at a fraction of the cost.
Store your more oversized items in the three upper compartments, and hang your jackets, scarves, purses, and hats on the six-strong double coat Hooks. You constructed from non-toxic, carb-2 compliant, laminated composite woods.
A wide bench with plenty of room sits on top of 24 individual shoe cubbies. Each shoe cubby is spacious enough to hold a pair of size 13 Men's shoes, keeping them neatly stored and out of the way.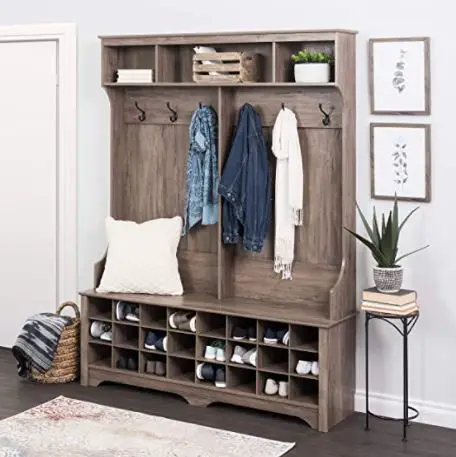 Features:
Composite Wood
Double coat hooks
Anti-tip restraint
---
Constructed from solid hardwood and veneers, the weathered surface softens the classical lines and suits any home.
Pull the drop-down drawers forward with actual metal hardware and find two spacious cubbies inside, perfect for storing shoes, scarves, and other clutter best kept out of sight.
The tall, slatted back is equipped with hooks for hanging coats out of the way, and two more overhead cubbies offer space for décor or storage. The drop-down door has a magnetic closure.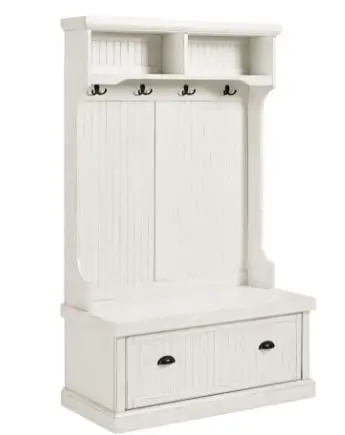 Features:
Metal
Full-sized bench
Upper storage cabinets
---
This contemporary Barnside Metro Hall Tree brings the feel of a superb industrial design to your home. The rustic aged look of weathered wood and the sturdy metal tube frame in powder coated dark grey painted finish provides a modern, inviting, organized feel.
The wire brushed pine veneer over engineered wood in a multi-toned driftwood finish gives a rustic texture to complement the metal frame.
The top panel of the hall tree boasts a large storage shelf and four large hooks, perfect for hanging coats, bags, and more.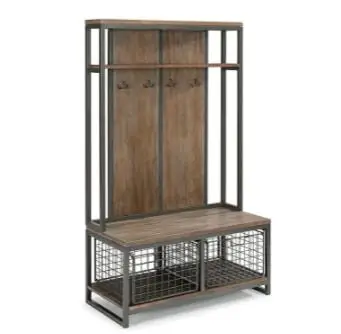 Features:
Full-sized bench with two slide-out
Lower wire basket storage
---
Common Questions About Types of Mudroom Lockers
How much do mudroom lockers cost?
Mudroom lockers typically span from $1,000 to $2,000, depending on the style. Open lockers or cubbies cost less, whereas closed lockers cost $2,000 or more.
What is a mudroom locker?
Mudroom lockers come in many different styles. Classic mudroom lockers typically have a high open cubby with an elongated main compartment and a smaller upper shelf. Hooks fastened to the walls of each cubby provide a place to hang coats, umbrellas, and other long items.
Which are the types of mudroom lockers?
Tiers and Columns
The main categorization of mudroom lockers is based on tiers and columns. Tiers refer to the number of rows. Columns refer to the number of individual locker units.
Children'-sized vs. adult-sized cubby lockers
If you are a parent, you might prefer a shorter storage unit so the kids can reach the hooks. The usual kids' height lockers are 50.5 inches. The adult units are typically 69 inches in height.
Locker vs. Hall Tree
Lockers are self-contained storage cubbies, whereas a hall tree that serves the same purpose is open. Typically lockers should only go in a mudroom or more casual entry, whereas an entry hall is more formal and suitable for a foyer or formal entry area.
How wide should a mudroom locker be?
Each cubby should be 15 inches wide, whether for adults or children. If there are four people in the family, you will need at least 60 inches of wall space for cubbies.
What features to look for when buying a mudroom locker?
Design: When it comes to mudroom lockers, you can choose between simple and more decorative options. It all depends on your taste.
Benches included: This is an excellent feature to have; mudroom lockers with benches help sit or put shoes on.
Storage: Some mudroom lockers come with drawers /shelves at the top and bottom. Determine how much storage you'll be needing.
Hooks: Convenient for coats and hats.
Materials: Many are wood, but you can find metal ones.
Shoe storage: It's very convenient to have a shoe storage option with small sections at the bottom of your mudroom storage unit.
Tiers and columns: Tiers refer to the number of rows. Columns refer to the number of individual locker units.
Size: Mudroom lockers come in adult and kid's sizes.