Choose from these four types of ceilings for your next project. If you are in the process of choosing the type of ceiling for your home and have no idea where to start? We hear you! It sounds like you could use different types of ceilings options. The kind of ceiling that you choose can help you communicate your vision for a space. The reason why we'll be telling you all about different types of ceilings.
Though we are most used to wood ceilings, different types of ceilings are used in residential and commercial environments. Your final decision should be based on your particular space as well as your design intent.
With several options available, it can become overwhelming to identify exactly what would work for you. So we are here to help and point you in the right direction by showing you different types of ceilings and more helpful tips.
Types of Ceilings
The 1800 True Access Grille combines a wood grille design with the function of a fully accessible system.
Every panel is accessible across the span of the surface without the use of tools or fasteners.
Alignment is maintained after every return with clips gliding wood grille panels back into place. This means your wood grille ceiling won't get bent out of shape over time, and throughways remain unnoticed to occupants.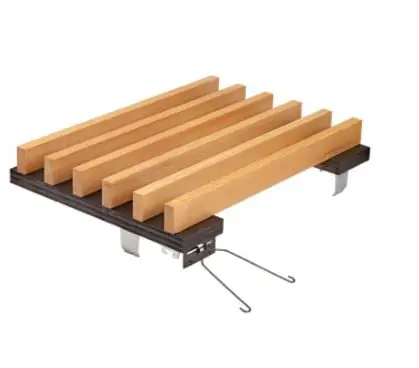 Features:
Solid wood or veneer
Fire-rated core
Panel width is typically 24."
---
The Panelized Linear style wood ceiling offers a design where the individual wood member is wider than deep.
The Panelized Linear uses a pre-assembled panel fabrication process. This product can be installed throughout the country and is the preferred design in areas requiring seismic compliance.
The Panelized Linear can enhance acoustics via sound absorbing material placed over open reveals within the T-Bar grid. Insulation is typically provided locally.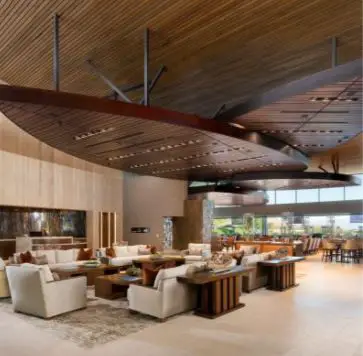 Features:
Heavy-duty T-Bar
Weigh 2-4 pounds per square foot
---
Modern Molding Coffer style wood ceiling offers a coffer design typical of modern European woodwork. The coffer frame remains angular.
The Modern Molding Coffer is used in spaces where a modern version of the traditional coffer appearance is desired. The picture frame assembly is used to fabricate and miter veneered molding attached to a veneered panel.
The Modern Molding Coffer is considered acoustically reflective.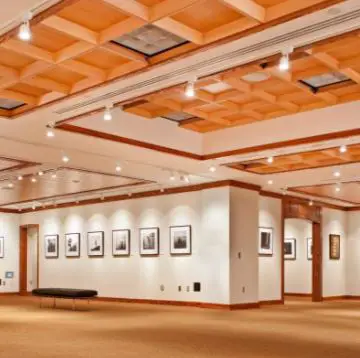 Features:
Weigh 4 pounds per square foot
Heavy-duty T-Bar main runners
Require a safety wire tie-off
---
Our tiles effectively absorb and block sound for total noise control and design flexibility, made of mineral fiber.
Armstrong ceiling tiles are already in 60% of commercial spaces, making finding a replacement easy.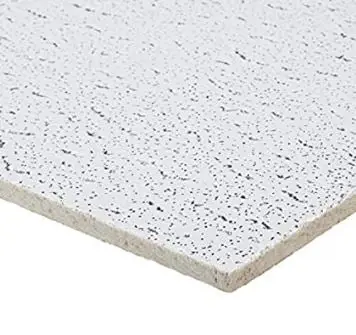 Features:
Mineral Fiber
Rectangle
Painted White
---
Common Questions About Types of Ceilings
What kind of material is used for ceilings?
A variety of materials is used for constructing ceilings in a home. By far, the most common today is the same as that used for walls; drywall, also known as gypsum wallboard, or by the trade name Sheetrock. Drywall is attached to a structure of ceiling joists with drywall screws or nails.
What type of ceiling is popular?
Conventional ceilings are both functional and pleasing to the eye. One of the most common ceiling types, traditional ceilings fit standard wall heights (8 – 9 feet) and work for taller rooms.
What is a triangle ceiling called?
The vaulted ceiling is a popular ceiling option in contemporary architecture because it brings in more light and works with most design styles.
Vaulted ceilings are known by quite a few names, high ceilings and raised ceilings being a few. But, they are most commonly referred to as cathedral ceilings for a good reason.
What is the best material to use for a ceiling?
Wood. Wooden ceiling boards usually look classic and natural. They can be used for both interior and exterior purposes. However, they are not resistant to termites and weather conditions which may cause them to bend or swell.
Gypsum. Gypsum ceiling boards come in many different patterns. They are light and easy to install without revealing the seams. They are suitable for interior purposes, such as in the living room or bedroom. But since they are made from compressed gypsum powder covered with paper, they are not resistant to water or moisture, making them unsuitable for exterior purposes.
Vinyl. Vinyl ceiling boards are light, resistant to water and moisture. They also do not swell or bend easily, and you do not need to paint before using them. Although they can be used for both interior and exterior purposes, vinyl ceiling boards are relatively expensive.
Fibre-cement. Fiber-cement ceiling boards are durable against weather conditions and resistant to fire. Fiber-cement ceiling boards can be used for interior and exterior purposes without bending and swelling. Fiber-cement products come in a variety of patterns, such as strip boards.
What are the different types of ceilings for residential and commercial spaces?
Conventional Ceiling
A conventional ceiling construction type is commonly found in homes. These ceilings have a standard drywall finish and are made of lower-cost materials, requiring easy installation.
Conventional ceilings are plain and flat, usually between 8 to 9 feet high, and can fit with typical construction material sizing.
Suspended Ceiling
A suspended ceiling sometimes referred to as a dropped ceiling, hangs from a metal grid below the existing ceiling that is already in place.
This ceiling variety is most commonly used in commercial buildings, offices, and retail spaces, as suspended ceilings give designers remarkable flexibility. Most wood ceilings are suspended using standard commercial T-bar grids and are cost-effective.
Coffered Ceiling
Commonly found in high-end homes, churches, libraries, and hotels, coffered ceilings reflect a classic, even luxurious, aesthetic.
Tray Ceiling
Tray ceilings are multi-level ceilings –also known as panned ceilings; they start from one height, then drop as you add levels. As the name suggests, the ceiling layout resembles a tray.
Tray ceilings become slightly lower with each added step or "level" surrounding the raised center, creating a three-dimensional effect as the top expands outwards.
Coved Ceiling
A coved ceiling is typically found in formal rooms, theaters, or churches. The Vatican, for example, houses one of the most famous coved ceilings in the world.
Forming a dome-like design, this concave ceiling has curved edges instead of sharp angles between the ceiling and walls and is often built using curved molding or framing.
Cathedral Ceiling
Cathedral ceilings are often found in large living rooms, dining rooms, bedrooms, and even the master bath.
Cathedral or vaulted ceilings are known for their inverted V-shape where the tip of the V is the highest point and the sides of the V slope down.
Shed Ceiling
Shed, or single-slope, ceilings are typically found on the top story of a home, either in the attic or loft.
Creating a distinct look for your room, a shed ceiling will begin at a high point at one wall, then slope down toward the opposite wall.
Beam Ceiling
Beam ceilings are typically found in hallways and corridors for commercial settings and living and dining rooms for residential settings.
Though considered as a contemporary style, it's a traditional ceiling form. Made primarily from hardwoods, beams give homes a classic, rustic appearance.
Read: Types of Ceiling Fans