How many types of bed frames are there? Are you in the process of re-decorating your room and want a new bed frame? We hear you! It sounds like you could use different types of bed frames. These units offer style, functionality, and comfort. The reason why we'll be telling you all about different types of bed frames.
When tidying your bedroom, your bed is a major focal point, and the right bed frame can elevate the overall feel and décor of this personal and meaningful private space. Your bedroom should reflect you, and your bed frame shouldn't be any different.
It can become a bit overwhelming to identify precisely what bed frame you need with many options available. So we are here to help and point you in the right direction by showing you different types of bed frames to help you wake up on the right side of the bed.
Types of Bed Frames
With this modern and boldly outlined foundation, you can add strength and understated sophistication to your bedroom, qualities that never go out of style.
Reliable metal slats are designed to support and extend the life of your latex, memory foam or spring mattress without the need for a box spring.
A 14-inch platform features 12 inches of under-bed space, perfect for storing extra odds and ends.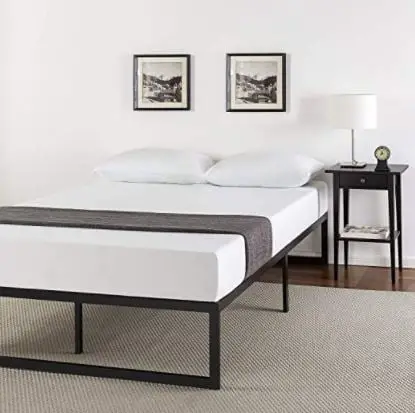 Features:
---
The bed frame with headboard and footboard by SimLife can provide strong steel support for increased mattress life without the need for a box spring and allows for valuable under-bed storage.
Its modern design creates a warm and elegant feel to your sweet home. This sturdy bed frame is the perfect platform to hold your standard full-size mattress.
The steel bed frame features providing solid support for the mattress as well as even body distribution for a restful night's sleep.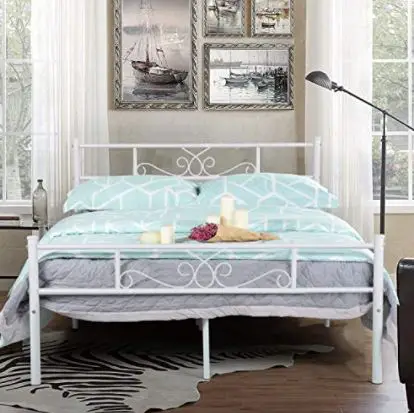 Features:
Storage space
Alloy Steel
White
---
This bed frame stands out with clean, complete metal lines, elegant headboards. Upgraded design with four posts and canopy top, allowing for customization with decorative curtains.
The stylish innovative look lets this bed frame become a perfect bedroom décor. 18 heavy-duty steel slats, strong metal center rail, and leg offer this metal-framed strong support.
Do not require an additional foundation or box spring. Metal slat base allows air to pass freely beneath your bed, keeping your mattress fresher longer.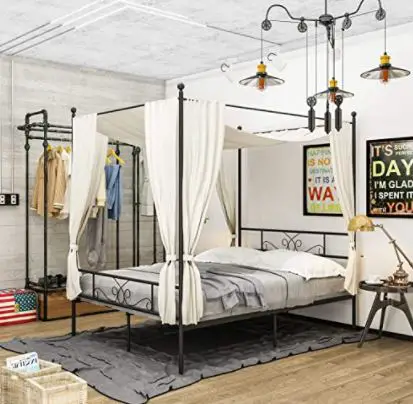 Features:
Under-bed Storage Space
No Box Spring Need
Modern Canopy Bed
---
The headboard, with its sophisticated stitching and button tufting, rises more than 2 feet over the top of the bed frame to create a focal point in your bedroom.
Strong wood slats support and extend the life of your mattress without the need for a box spring. The slats are spaced closely together so your mattress won't sag between them.
The Shalini's interior steel framework is built to last while the padded upholstery adds a soft touch. You can tuck away smaller items and most under-bed stackable storage bins.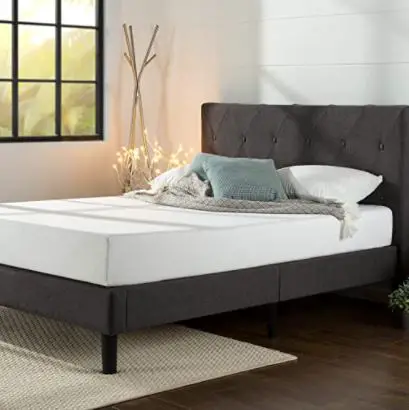 Features:
Engineered Wood
Interior steel framework
No Box Spring
---
The combination of wooden panels and metal slats takes a strong industrial/rustic flair that is suitable for industrial, rustic, transitional, and farmhouse décor homes.
The headboard features an open horizontal-bar design and the wood grain pattern adds a natural accent.
No creaking or any noise when sleeping with a side rubber strip preventing metal friction and a little tailboard fixing the mattress.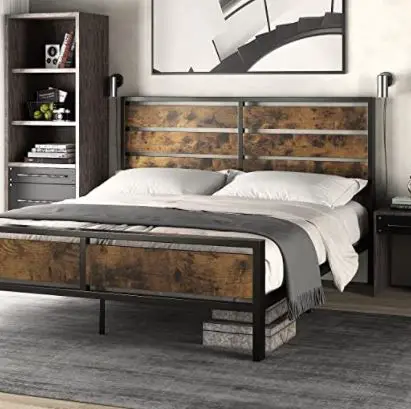 Features:
Engineered Wood, Iron, Metal
Industrial/Rustic Style
No noise and Non-slip
---
Upholstered in linen fabric with a button-tufted and square-stitched surface, this deluxe platform bed will add sophisticated style to any bedroom.
Four steel drawers underneath offer perfect storage space for bed sheets, accessories, off-season clothing, etc.
A solid wooden slats system does not require a box spring or any other additional foundation.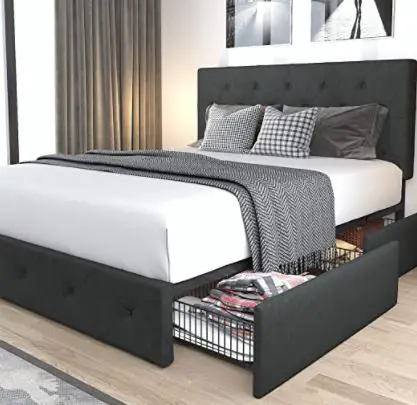 Features:
Space-saving
Sturdy Structure
Adjustable Headboard
---
Common Questions About Types of Bed Frames
What Are Bed Frames Called?
Bed frames are also called bedsteads; and refer to the railing for your bed, though some frames feature a headboard and footboard. The bed railing holds your foundation, which then holds your mattress.
What are the most Comfortable Types of Bed Frames?
Sprung-edge divans are considered the most comfortable and luxurious. This bed type features an open-coil or pocket-spring unit on the frame, which acts like a giant shock absorber. The mattress sits on top of this, making it more durable as there is more give.
How many types of beds frames are there?
Common types of beds are:
Four-poster bed frame. Usually made of oak wood, these beds have four poles attached that can be carved to enhance the look. Larger than usual in size, these fit well if your bedroom is well spread.
Platform bed frame. Versatile in nature, these beds fit perfectly in a big or even in a contemporary setup. They allow easy access to the underneath space for cleaning purposes.
Box bed frame. Simple in design, box beds are common in contemporary households because they provide you ample space to store.
Bunk bed frame. These beds are apt for rooms with space constraints or rooms where the residents want more floor space for the children to play and study.
Canopy bed frame. This bed is like the four-poster one, with a slight difference; the four posts in case of canopy beds are connected.
Floor bed. Apart from the informal comfort it provides, a floor bed also gives your home a bohemian look. Often found at Indian homes.
Sofa-cum-bed frame. These are a perfect fit for those living in a studio apartment or with a small bedroom.
Upholstered bed frames. If it's luxury you're looking for, upholstered beds have you covered. These beds are super comfy, bold, and can easily fit into a wide range of spaces.
Storage bed frames. Designed to help you maximize storage in the bedroom, the storage bed is the most multipurpose and space-efficient of the bed frame styles.
Sleigh bed frame. Imagine a bed that's shaped like a sleigh, with a high headboard and footboard. This is one type of bed frame with serious style and works in any setting.
The wrought-iron bed frame, a wrought-iron bed, outshines all other bed designs, given its strong metal construct for longevity.
The headboard A beautiful, standalone headboard is an excellent choice for a bed that gives you all the style without the total price.
What it the difference between bed and bed frame?
Unlike divans, bed frames include a headboard and a foot end as standard. Since bed frames are usually larger than a mattress – unlike divan beds, which are the same dimensions as a mattress.
It's important to check the bed frame's width, length, and height, especially if you have a small room.
When do you need to replace a bed frame?
However, a bed that has not been properly looked after or is in bad shape will affect the comfort and lifespan of your mattress.
Signs that it's time to look for a new bed frame include an uneven or sagging base, awkward creaking sounds when you move, warped or broken slats or visible holes in the solid wire base.
What aspects should you consider before choosing a bed frame?
Size of your room. Your bedroom size plays a vital role in deciding the type of bed frame you need. Most modern-day apartments have small rooms, in such case you'll be needing something small and simple to save space.
Bed size. Depending on the number of people who will sleep on the bed, the size of your mattress will play a key role while choosing your bed frame.
Height of the frame. A high bed frame might be easier to get in. Though some people might feel more comfortable with a bed frame that is low.
Features. Modern bed frames offer several features to make your life easier. Some might provide you with huge storage space. While others might transform into a sofa during the day.
Accessories. An adjustable bed frame with remote control and other accessories can be hidden in the footboard of your bed.